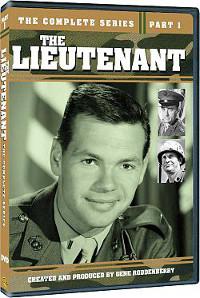 "The Lieutenant: The Complete Series – Part 1" (Warner Archive)
"The Lieutenant: The Complete Series – Part 2" (Warner Archive)
Gary Lockwood, future astronaut on a mission to the moons of Jupiter in Stanley Kubrick's "2001: A Space Odyssey," takes the lead in this short-lived series created by Gene Roddenberry. Lockwood plays Lt. William Tiberius Rice (yes, he is Roddenberry's first Tiberius), an Annapolis graduate assigned to teach new Marine recruits at Camp Pendleton under the command of Captain Rambridge (Robert Vaughn), a ramrod-straight old-school officer who takes an interest in the earnest young officer. He's untested in battle, which makes the up-from-the-ranks Rambridge wary, but his commitment and his ethical backbone impress the superior officer enough to take nurture Rice with a little tough-love command.
Videodrone interviews Gary Lockwood here
Though set at Camp Pendleton, this show is in the tradition of "The Naked City" and "Route 66" and "The Fugitive," with stories passing through his platoon (problem recruits, officers under suspicion) or in the town near the base (the very Roddenbery-esque "Cool of the Evening," which uses a career-threatening accusation against Rice as a springboard to explore the stresses on public school teachers).
Roddenberry's name is on every episode as creator and producer and his presence can be felt in the issue-oriented stories, the complicated characters, and the sometimes ambivalent resolutions, but to the best of my knowledge he only receives writing credit on a single episode. "A Very Private Affair" is episode five in the show's run but it plays like a pilot with Rice's arrival on base and his first meeting with Captain Rambridge, reframed as a flashback with narration.
James Gregory and Richard Anderson have recurring roles of base officers and future "Star Trek" travelers Leonard Nimoy, Majel Barret, Nichelle Nichols, Walter Koenig, and Ricardo Montalban are among the episode guest stars.
The series ran for a single season and was reportedly cancelled not because of ratings but because network anxiety over the growing issue of Vietnam. "Part 1" features the first 16 episodes of the series on four discs. "Part 2" presents the show's final 13 episodes, plus a feature-length version of the final episode of the series prepared for overseas theatrical showings. Which means, yes, it was a 29-episode season. Those were the days.