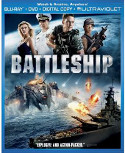 New Releases:
big screen action star has landed him in the two biggest tentpole flops of 2012: "John Carter" and this, a navy-versus-aliens spectacle loosely inspired by a Hasbro board game. MSN film critic James Rocchi, however, says it's actually "a truly great summertime film." Reviewed on Videodrone here. Blu-ray, DVD, and On Demand.
"The Pirates: Band of Misfits" (Sony) is the latest old-school clay animation from Aardman, a comedy of slapstick pirates on the high seas. Blu-ray, Blu-ray 3D, DVD, On Demand, and at Redbox. Reviewed on Videodrone here.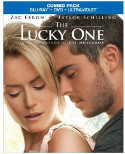 "The Lucky One" (Warner) is yet another Nicholas Sparks romantic drama, this one with returning Marine Zac Efron wooing single mother Taylor Schilling. Romancing a somewhat older audience is "Darling Companion" (Sony) with married couple Diane Keaton and Kevin Kline searching for a lost dog with their friends. Both on Blu-ray, DVD, and On Demand.
"The Moth Diaries" (MPI) is a little schoolgirl gothic from Mary Harron and "Lovely Molly" (Image) is a haunted house horror from Eduardo Sanchez, one of the creators of "The Blair Witch Project." And "Monsieur Lazhar" (Music Box), the big-hearted French drama of an importational grade school teacher, leads off the foreign film line-up.
Plus: "Life Happens" (Universal) to Krysten Ritter, Kate Bosworth, and Rachel Bilson; "Think Like a Man" (Sony), "Headhunters," (Magnolia), and "A Beginner's Guide to Endings" (eOne).
Browse the complete New Release Rack here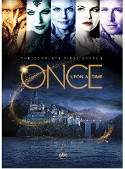 TV on Disc:
"Once Upon a Time: The Complete First Season" (ABC), the other network show about fairy tale figures in the modern world, is more of a small town melodrama with roots in the classic tales of magic, heroes, witches, and curses, with a Wicked Witch (Lana Parilla) ruling them all as a suburban mayor taking her vengeance. 22 episodes, plus commentaries, featurettes, and other supplements, on Blu-ray and DVD. Videodrone's review is here.
"Homeland: The Complete First Season" (Fox), the Showtime original drama starring Claire Danes as an unstable CIA agent and Damian Lewis as a returning POW she suspects may be a sleeper agent, was nominated for nine Emmy Awards. 12 episodes, plus an exclusive extended storyline, on Blu-ray and DVD. Reviewed on Videodrone here.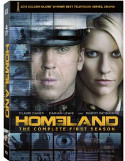 "The Walking Dead: The Complete Second Season" (Anchor Bay) carries on the zombie survival drama without series creator Frank Darabont. 13 episodes on Blu-ray and DVD with plenty of supplements, plus a special Limited Edition that comes in the most perverse conversation piece of packaging I've ever seen: a zombie skull that opens with a screwdriver in the eye socket. Videodrone's review is here.
"Boardwalk Empire: The Complete Second Season" (HBO), the lavish depression-era HBO original series produced by Martin Scorsese, brings the struggle for power over the Atlantic City bootleg trade to a head. 12 episodes plus supplements, on Blu-ray and DVD.
Plus: "Two and a Half Men: The Complete Ninth Season" (Warner) is the first with Ashton Kutcher (DVD), more with David Suchet in "Poirot: Series 6" (Acorn) (Blu-ray and DVD), and "Sons of Anarchy: Season Four" (Fox) (Blu-ray and DVD).
Flip through the TV on Disc Channel Guide here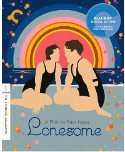 Cool and Classic:
"Lonesome" (Criterion), completed just as sound technology came to the movies, is one of the last great silent films with the curious gimmick of three sound dialogue sequences. Criterion restores the synchronized music and effects track and includes a bonus film by director Paul Fejos, "The Last Performance" (1929), among the supplements. Reviewed on Videodrone here.
"Quadrophenia" (Criterion), the 1979 film of the rock opera about rock and roll and youth rebellion in 1965 England, is remastered for a new DVD special edition and Blu-ray debut, with new commentary tracks and archival footage on the film and the era. Videodrone's review is here.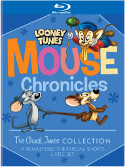 "Looney Tunes Mouse Chronicles: The Chuck Jones Collection" (Warner) collects 19 cartoons feature the lesser-known mouse heroes of Warner animation: Sniffles and the team of Hubie and Bertie. Blu-ray and DVD (with bonus cartoons on the Blu-ray).
"Deathwatch" (Shout! Factory) is Bertrand Tavernier's 1980 anticipation of reality TV, starring Romy Schneider, Harvey Keitel, and Harry Dean Stanton. Blu-ray+DVD Combo release.
Plus: "Living Dead Girl" (Kino) and "Two Orphan Vampires" (Kino) continue the catalog of erotic horror from France's Jean Rollin (Blu-ray and DVD), "Maidstone and other films by Norman Mailer" (Eclipse) presents three early features by the acclaimed novelist (DVD only), and "Starship Troopers: Invasion" (Sony) is an anime sequel from the director of "Appleseed" (Blu-ray and DVD).
Videodrone B-Sides round-up for August spotlights a collection of SyFy Channel monster movies, including "Bigfoot" (The Asylum) with seventies TV stars Danny Bonaduce and Barry Williams. The whole crazy menagerie is on Videodrone here.
All of the Cool and Classic here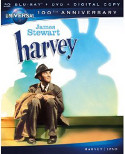 Blu-ray Debuts:
Getting a jump on the holiday gift sets is "Terminator Anthology" (Warner), which boxes up all four films and more than ten hours of supplements in a five-disc set. They're all the previously released editions collected in a new package, and a Best Buy exclusive for a limited time. Reviewed on Videodrone here.
"Harvey" (Universal), the classic comedy with Jimmy Stewart as an amiable alcoholic whose best friend is an imaginary six-foot rabbit, debuts on Blu as part of the branded "Universal 100th Anniversary" celebration in a Blu-ray+DVD+Digital set. Videodrone's review is here.
Also arriving this week in the same line is "Abbott and Costello Meet Frankenstein" (Universal), "Airport" (Universal), and "Sixteen Candles" (Universal).
The "Lord of the Rings: Extended Edition" trilogy is now available in separate editions: "The Fellowship of the Ring" (New Line), "The Two Towers" (New Line), and "The Return of the King" (New Line). They're called "singles" in industry parlance, but that terms doesn't quite fit: each of the three sets features five discs, packed with the Appendices and other supplements of the previous box set.
"School of Rock" (Paramount) turns the real-life story of the music school for kids who want to rock into a Jack Black comedy directed by Richard Linklater. It's also a Best Buy exclusive.
Peruse all the new Blu-rays here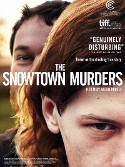 New on Netflix Instant:
"The Snowtown Murders" (2011), from director Justin Kurzel, fictionalizes the true story of Australia's worst serial killer, John Bunting.
The low budget thriller "Night Train" (2009) begins as a rolling "Shallow Grave" and turns into a vaguely continental "Maltese Falcon."
"Post Mortem" (2010) from Chile frames the 1973 military coup with the story of a the quiet breakdown of a lonely autopsy scribe.
Vittorio de Sica's "Shoeshine" (1946) looks at the poverty and chaos of Italy after the war and won an Honorary Academy Award in 1948. Also from Italy is Federico Fellini's "The Clowns" (1970), his first-person exploration/apprecia​​tion of the art and culture of clowns.
"Riki-Oh: The Story of Ricky" (1991), a Japan/Hong Kong co-production, made its cult reputation as a violent prison drama that jerks and lurches its way through the most audacious, excessive gore you've ever seen.
Browse more Instant offerings here

New On Demand
Available On Demand same day as home video is the aliens-versus-Navy action spectacle "Battleship" and the animated family comedy "The Pirates! Band of Misfits."
Also available same day is "The Lucky One" with Zac Efron and Taylor Schilling, "Darling Companion" with Diane Keaton and Kevin Kline, and "Think Like a Man" with Michael Ealy and Gabrielle Union. See New Releases above for more information.
Arriving before DVD is Mike Birbiglia's indie comedy "Sleepwalk With Me," currently in theaters, and the indie horror film "V/H/S," available On Demand before theaters.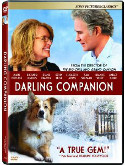 Available from Redbox this week:
Arriving at Redbox same day as video stores is "The Pirates! Band of Misfits" (Sony), "Darling Companion" (Sony), "Think Like a Man" (Sony), "Lovely Molly" (Image), and "Starship Trooper: Invasion" (Sony).
Also arriving in Redbox kiosks this week is "4.3.2.1" (Universal) with Emma Roberts and Tamsin Egerton as friends who cross paths with a diamond heist. Reviews here.