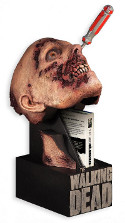 The Walking Dead: The Complete Second Season (Anchor Bay) struggled to find its way after AMC unceremoniously fired Frank Darabont, the man who guided the comic book-to-small screen transition and defined the show's style and sensibility. When the group, led by former police officer Rick (Andrew Lincoln), takes refuge in an isolated farm with a wary but generous family, the show almost stops dead in its tracks, only to shuffle back to life as tensions and conflicts come to a head in episode seven. Suddenly the show comes alive, not because of the renewed action (though that helps) but in the conflicts that have been pushed aside over and over again until they become so volatile they must be confronted. The series finds its footing again in the characters and their long, strange, sometimes fatal trip through the end of the world. Scott Wilson is a marvelous addition to the show as the old school patriarch and country doctor wary of our gypsy group of guerilla survivors.
13 episodes on Blu-ray and DVD, with commentary on five episodes by members of the cast and crew, 11 featurettes, six webisodes, and deleted scenes. And don't forget that really sick and perverted (and, for some people, super-cool conversation piece) Limited Edition release with a custom case. The disc are located in the skull of a zombie, which you open by shoving a screwdriver into its eye socket. No, seriously, that is how it works. Who comes up with these concepts? And are there any job openings?
The new season begins in October.