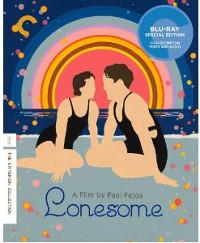 Lonesome (Criterion), completed just as sound technology came to the movies, is one of the last great silent films. Or should I say, mostly silent. Finished just as "The Jazz Singer" kicked off the rush to talkies, it was revised just before release with the addition of three sound dialogue sequences. While they tend to stick out, being static and somewhat awkward (though they learned to talk, these early films had not yet found their voice), they are brief and a little endearing, a unique gimmick in the midst of a turbulent changeover.
The rest of the film is a lovely little romance right out of the late-silent film culture of "Sunrise," "The Crowd," "People on Sunday" and others, a simple story of a young man (Glenn Tryon) and a young woman (Barbara Kent), just a couple of working class folk in the urban crush of New York City, looking for companionship and finding each other in the bustle of a holiday weekend at the beach. "In the whirlpool of modern life, the most difficult thing is to live alone." Directed by Hungarian émigré Paul Fejos, it is delicate and sweet, playful and creative, and cinematically inventive without showboating.
Along with the sound sequences, the film was released (like a lot of others of the period) with a synchronized music and effects track, this one quite effective at creating the atmosphere of the city at rush hour with an impressionistic soundtrack of bells, engines, and the rumble of crowds, and setting the mood of the escape of the Coney Island carnival where they play, flirt, and then lose one another.
The Blu-ray and DVD feature a beautifully mastered edition from the restored duplicate negative and include commentary by film historian Richard Koszarski, a bonus film by director Paul Fejos, his 1927 "The Last Performance" with Conrad Veidt and Mary Philbin (with a new score by Donald Sosin), a reconstructed sound version of Fejos' 1929 musical "Broadway," a 1963 visual essay set to interviews with Paul Fejos narrating his life story, audio excerpts of an interview with cinematographer Hal Mohr discussing "Broadway," and a booklet with essays by critic Phillip Lopate and film historian Graham Petrie and an excerpt from Fejos's autobiography.