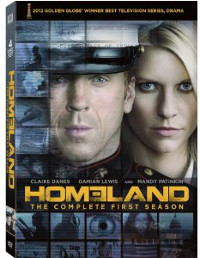 "Homeland: The Complete First Season" (Fox) is the first Showtime original series to take on HBO in the realm in which the latter dominates: dense, challenging, intelligent drama. This show, adapted from an Israeli TV series called "Prisoners of War" about contemporary POWs struggling to find their place when they return home, was developed for American audiences by its Israeli creator Gideon Raff with Alex Gansa and Howard Gordon of "24." This incarnation is wrapped tightly in the war on terror and the American intelligence culture, but behind the realpolitik thriller is also the story of war and captivity takes its toll on the folks on the front lines.
Claire Danes stars as Carrie Mathison, a CIA analyst who has trouble working well with others, and Damian Lewis as Sgt. Nicholas Brody, a Marine who was captured by Al-Qaeda and is discovered in captivity eight years after he was assumed dead. Carrie has reason to believe he's been turned into a sleeper agent for the terrorists while Brody (even his wife calls him by his last name) struggles to reconnect with his family, his community, and a culture that has moved on in eight years. Morena Baccarin co-stars as Brody's wife, herself struggling to come to terms with his return years after she was told he was dead, and Mandy Patinkin is Carrie's boss, both protective and wary of her, given their slightly troubled history.
That's where it begins, but the story takes some very interesting turns, much of it turning on the characters themselves and the secrets they want to keep hidden. While the perceptive but obsessive and sometimes blinkered Carrie is convinced that Brody's secrets will lead back to Al-Qaeda, she keeps her own illness (which she manages with under-the-counter meds) a secret from the agency until events bring it into the light.