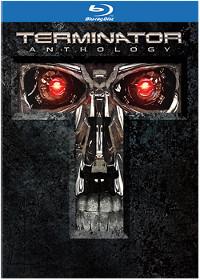 Terminator Anthology (Warner) gets a jump on the holiday gift sets by boxing up all four films and more than ten hours of supplements in a five-disc set.
Arnold Schwarzenegger remade his career as the unstoppable juggernaut of James Cameron's original "The Terminator" (1984), a hard-wired hardware time travel thriller about a cyborg from the future sent back to the eighties to kill the hope of the future (Linda Hamilton). Michael Biehn is the twitchy, haggard human who risks all to save her and he runs through the film with the over-amped desperation of a paranoid schizophrenic on his 12th cup of espresso.Cleverly plotted and stoked with sly bits of black humor, this grungy little low budget sleeper looks even more primitive next to its sleek mega-budget sequel.
In "Terminator 2: Judgment Day" (1991), mechanical marauder Schwarzenegger has been reprogrammed and sent back in time to fight on the side of the humans and he teams up with Linda Hamilton's suspicious Sarah Connor to save the once and future hope of mankind—her son, John Connor (Edward Furlong)—from the next generation of Terminator, a liquid metal creation that is almost unstoppable. It was a technical marvel in 1991 and still a pretty impressive tech-noir thriller, and this edition features both the 137-minute theatrical version and the 152-minute extended edition, and the first ever full length scene specific commentary by James Cameron.