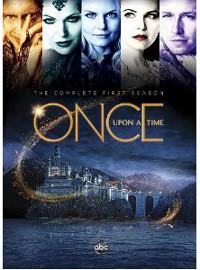 Once Upon a Time: The Complete First Season (ABC), the other network show about fairy tale figures in the modern world ("Grimm" was released a couple of weeks ago), recasts the classic tales of magic, heroes, witches, and curses in the template of a small town melodrama. Or should I say, curses the characters to live human lives with no memory of their magical pasts.
Ginnifer Goodwin takes top billing in busy ensemble cast as grade school teacher Margaret Blanchard, aka Snow White, the princess who (in the parallel flashbacks that run through the episodes) escaped the clutches of the Evil Queen (Lana Parilla), reincarnated on the mortal plane as Regina Mills, mayor of the small Maine town of Storybrooke.
Everything seems to be just fine until Henry (Jared Gilmore), the adopted son of the mayor, tracks down his birth mother, the evocatively named Emma Swan (Jennifer Morrison), and brings her back to the town where no one else seems able to leave. Including Emma, a very capable bail bondswoman who decides to take over as sheriff, take on the manipulative mayor, and take an active role in her son's life, even if she doesn't believe his stories of amnesiac fairy tale characters trapped on Earth.
And so begins the show's reworking of fairy tales, combining and recasting them into a universe where they interact and cross over, weaving the flashback fantasy worlds with their current human lives similar to the structure of "Lost," fitting for a show created by Adam Horowitz  and Edward Kitsis, veteran writers and producers of that cult series. (Genre specialist Jane Espenson, of "Buffy," "Battlestar Galactica," "Torchwood,"  and many other shows, is also on board as a consulting producer.)