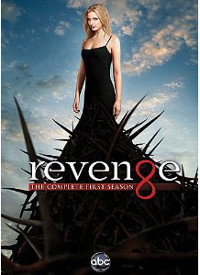 Revenge: The Complete First Season (ABC), a juicy nighttime soap opera of the rich and beautiful in the Hamptons and a ferocious scheme of righteous vengeance, was one of the success stories of the 2011-2012 TV season, thanks to the gleeful bad behavior and queen bee command of Madeleine Stowe.
"When I was a child, my father was framed for a crime he didn't commit," intones our heroine over the show's credits. "Before he died, he left a road map for revenge that led me to the people who destroyed our lives. Sometimes the innocent get hurt, but one by one the guilty will pay."
That pretty much sums it up. Emily VanCamp is the rich, young, and beautiful Emily Thorne, the new girl amidst the old money, and Madeleine Stowe is the JR of this little  Dallas: Victoria Grayson aka Queen Victoria, the social monarch of the Hamptons. She's no slouch herself when in comes to revenge, as the first episode shows, but she's downright petty compared to the righteous vengeance that Emily quietly and cruelly unleashes.
Part of the show's attraction is the contrast of the pretty, seemingly benign society girl who is really a ruthless, focused, brutally committed woman on a mission of revenge. The extent of the betrayal and the conspiracy that drives her unfolds over the course of the season, and by the end the possible reverberations are epic.