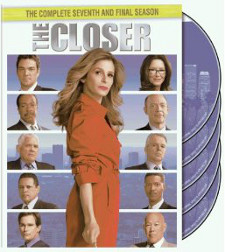 The Closer: The Complete Seventh and Final Season (Warner) – The TNT original series is an odd bird, headed by a Deputy Chief (Kyra Sedgwick) with reckless disregard for procedure, command structure, and even the law at times, and a crew that has evolved into the most well-oiled detective squad on TV. Which makes their brand of professionalism and camaraderie all the more impressive because it feels earned, forged under the pressure of job.
It's fitting that the final season of the series is haunted by two old cases, one involving a suspected rapist (Billy Burke) they could not convict, the other revolving around the Deputy Chief's calculated disregard for a suspect that resulted in his death as surely as if she had executed him herself. And if she beats criminal charges, she still has to face up to the act itself, which the show deals with pretty well (if not completely honestly). Mary McDonnell, whose Internal Affairs officer has been a frequent guest character, joined the cast for this season in preparation for the spin-off "Major Crimes," which is already forging its version of the team in its new incarnation on TNT.
DVD only, 21 episodes on five discs in a standard case with hinged trays, with the moderated discussion "Confessions of the Closer" featuring the cast and creators in front of an audience, deleted scenes, and a gag reel.