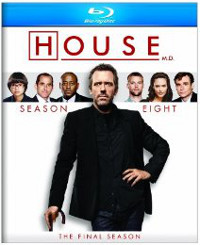 House: Season Eight (Universal) opens with Dr. Gregory House (Hugh Laurie), TV's most famous misanthrope medical genius, serving time for his actions at the end of Season Seven (namely driving his car into Dr. Lisa Cuddy's living room, then fleeing the scene). And this is no country club for rich guys either, which is not a good fit for a reflexive contrarian like House. Luckily for him (and one supposes in an effort to keep the show from turning into a prison hospital drama) his former intern turned hospital surgeon Dr. Foreman (Omar Epps) pulls some strings and gets him paroled back in the old teaching hospital. He's got a new team of young interns (Odette Annable and Charlyne Yi), one returning face (Peter Jacobson's Dr. Taub), a new boss (Dr. Foreman), a running rivalry with former intern Chase (Jesse Spencer), and a much shorter leash.
Befitting the final season of long-running series with a dedicated fan base, the show takes its valedictory lap with return visits from almost every character who served on House's team (Jennifer Morrison, Olivia Wilde, Amber Tamblyn) or was a serious part of his life (Sela Ward, Andrew Braugher), including those who passed away (Kal Penn, Anne Dudek). Glaringly absence is Lisa Edelstein as Cuddy, whose fight with the show's creators was apparently final. There's no closure to that central relationship, just fallout.
But the season's main storyline centers on Dr. Wilson (Robert Sean Leonard), who cuts ties with a still unapologetic House after his last betrayal, and his battle with cancer. Which means House has to cope with a drama where he's not the center of attention.