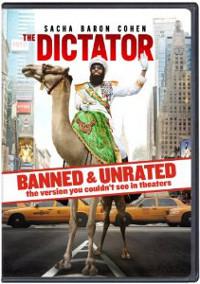 The Dictator: Banned and Unrated (Paramount) – After "Borat" and "Bruno," the tactics and talents of British comedian and satirist Sacha Baron Cohen are now too familiar to Americans for him to get away with his performance-art punking as social satire and moviemaking stunt.
So for The Dictator, actor / writer / producer Baron Cohen forgoes all pretense of mock documentary or reality TV parody to make a big, crazy, outrageous comedy that rides roughshod over all boundaries of taste to make both its point and its punchlines. And "it's all the more focused and consistently funny for that," argues MSN film critic Glenn Kenny.
For this one, Baron Cohen plays Admiral General Aladeen the blithely brutal, oppressive, and self-aggrandizing dictator of the fictional North Africa nation of Wadiya, who gets accidentally deposed and replaced by a dazed and idiotic double (Baron Cohen again) on a trip to speak at the U.N.. To get back at his back-stabbing head of security (Ben Kingsley), he teams up with a dizzy activist health-food store manager (Anna Faris, still one of the funniest women in the movies today), despite her ungainly armpit hair and inexplicable compassion for oppressed refugees from brutal regimes.