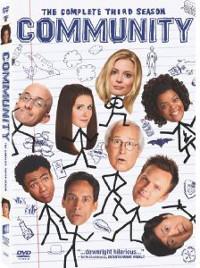 Community: The Complete Third Season (Sony) may be remembered as the season that this fan-favorite sitcom really gelled as the most clever comedy on TV. It will surely be celebrated as the last season with its brilliant creator/producer Dan Harmon at the helm. Hard to know what's ahead for our little community college study group, but this season everything clicks.
What was once an ensemble piece centered around Joel McHale's Jeff has shifted to the brilliant rapport between best friends and roommates Troy and Abed (Donald Glover and Danny Pudi), two guys living in their own fantasy world of role-playing and pop-culture immersion, and their dynamic springboards the season's most famous story: the two-part "Pillows and Blankets," a college-wide pillow fight civil war directed as a Ken Burns documentary (complete with narration by Keith David). The show also lays waste to "Glee," "Doctor Who," the holodeck of "Star Trek: The Next Generation," "Law and Order" (complete with chung-chung), and so on.
But it's the chemistry and interaction that makes the show hum. It's not just that they all get a spotlight, it's that they interact like a jazz ensemble, with comments flying and responses ricocheting through every study meeting like a mad bop tune.