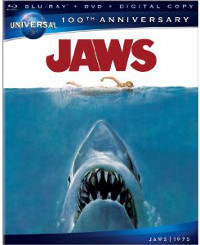 Jaws (Universal), Steven Spielberg's meticulously-directe​d, tension-filled, career-redefining thrill machine, has been pegged as the original modern summer blockbuster. And while that is true, this pop-culture masterpiece is more than simply a well-tooled thriller. Spielberg brings a sense of community, family, and humanity to the supermarket thriller from Peter Benchley, a book more designed than written.
Roy Scheider stars as the New England seaside vacation town police chief who is afraid of the water, Richard Dreyfus is the hippy oceanographer with a weak stomach, and Robert Shaw showboats shamelessly and superbly as the crusty old salt who leads the shark hunt with a snarl.
Visually, Spielberg's work is brilliant. Lazy shark fins, water ripples, snapping fishing lines, and buoys racing across the surf hint at something monstrous trolling beneath the surface. As the tension mounts, every shot of the ocean reminds us that a primal killer awaits under the placid surf. Though frankly phony when it finally bobs up for sharko-a-mano combat, the film is brilliant when the shark is a barely glimpsed force of nature. Today horror movies erupt in any and every situation, but in 1975 Spielberg shook up American audiences by making one of our comfort zones unsafe. He created an elemental monster movie in the bright daylight of suburban America's summer beach vacation.