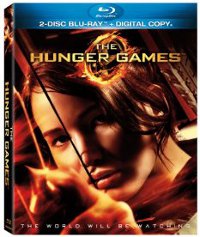 The Hunger Games (Lionsgate), the first blockbuster hit of 2012 (it grossed almost $400 at the U.S. box-office), is poised to be the first blockbuster home video release of the season.
Lionsgate is hoping to stoke the flames of fandom by giving the Blu-ray and DVD its own separate release date (it goes on sale at 12:01 am on Saturday, August 18) with special release parties organized at select video store and other disc retailers (in the tradition of the "Harry Potter" books).
You could say the The Hunger Games, based on the first book in the young adult dystopian trilogy by Suzanne Collins, is Lionsgate's effort to create a franchise from a hot young adult series, more mature than "Harry Potter" and grittier  than "Eclipse." And on the balance I'd say they made a pretty good effort.
The story of Katnis Everdeen, a teenage girl forced to be her family's provider and protector in an impoverished household in a bleak future that resembles Depression-era Appalachia — and then suddenly yanked from her home and dropped into a modern gladiatorial ring to kill or be killed — succeeds in its big screen incarnation thanks largely to Jennifer Lawrence. She plays a character not unlike her breakthrough role in Winter's Bone (the film could have been her audition for the role of Katnis) and if she's just a little too old for the part of a girl on the verge of womanhood, she's still a ferocious figure in a feral world, a survivor discovering that, at her most alone, she's actually part of a bigger community.
I confess that for all my issues with the film (and there are many), I more impressed at how much it got right. The adaptation borders on slavish, to be honest, with subplots shaved down or simply cut out and new scenes added to show us what Katniss (who narrates the novel from her perspective) couldn't see, but it also hones in on the personalities, the culture, and the sense of overwhelming corruption and control beyond the comprehension of this girl from the provinces.