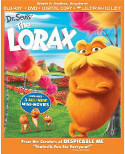 New Releases:
"The Lorax" (Universal) is Hollywood's latest attempt to turn a Dr. Seuss fable-like storybook into a big, busy, full-length feature film. MSN film critic James Rocchi compares it to "turning a haiku into a novel." Blu-ray, Blu-ray 3D, DVD, and digital download. Reviewed on Videodrone here.
"Bel Ami" (Sony) stars Robert Pattinson as a seductive gigolo who sleeps his way from poverty to wealth in turn-of-the-century Paris. Uma Thurman, Kristin Scott Thomas, and Christina Ricci co-star. DVD only, also available at Redbox.
"Blue Like Jazz" (Lionsgate), the American indie about faith and self-discovery in the coming-of-age story of a college boy fleeing his religious upbringing, is on Blu-ray, DVD, On Demand, and available at Redbox.
Also new this week: the documentary "Marley" (Magnolia) from Oscar-winning director Kevin Macdonald and the historical epic "Warriors of the Rainbow: Seediq Bale" (Well Go), the most expensive Taiwanese film ever made (available in two editions). Both Blu-ray and DVD.
Browse the complete New Release Rack here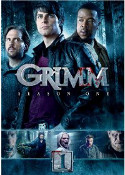 TV on Disc:
"Grimm: Season One" (Universal) is one of the new breed of urban fantasy shows, a mix of dark fairy tale, modern crime, and supernatural conspiracy set in the emerald forest of Portland, Oregon. There's a hit of "Buffy" here, to be sure, thanks to co-creator David Greenwalt, but it has  its own modern myth sensibility. 22 episodes on five discs on Blu-ray and DVD, plus featurette. Videodrone's review is here.
"Strike Back: Season One" (HBO), a co-production between Britain's BSkyB cable and American cable channel Cinemax, plays like a supercharged "MI-5" by way of a "Bourne" movie, with high-energy action, plenty of gunplay and explosions and maverick field agents racing across the globe. 10 episodes on four discs on Blu-ray and DVD, plus supplements. Reviewed on Videodrone here.
"Parenthood: Season Three" (Universal) features 18 episodes from the hit dramedy and "The Carol Burnett Show: The Ultimate Collection" (Time Life) is a 22-disc set featuring 50 episodes of the long-running comedy series. Both DVD only.
Plus the TV Movies "William and Catherine: A Royal Romance" (Lionsgate), with Jane Alexander and Victor Garber, and "Jesse Stone: Benefit of a Doubt" (Sony), with Tom Selleck, and the British telefilm "The Sinking of the Laconia" (Acorn), a World War II drama with Andrew Buchan and Franka Potente. All DVD only.
Flip through the TV on Disc Channel Guide here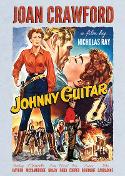 Cool and Classic:
"Johnny Guitar" (Olive), starring Joan Crawford and Mercedes McCambridge as frontier entrepreneurs who are more masculine than the men around them, is one of the most unusual westerns of its era, or any era for that matter. It makes its long-awaited disc debut on both DVD and Blu-ray in a beautiful new edition. Videodrone's review is here.
"Rio Grande" (Olive), starring John Wayne as a career cavalry officer, is the loosest film in John Ford's "Cavalry Trilogy" and one of his finest performances from Wayne.
Also new this week: the sexy thriller "Bound" (Olive) starring Jennifer Tilly and Gina Gershon and the horror film "The Boogens" (Olive).
The MOD Movies report this week surveys a dozen "Forbidden Hollywood" movies from the pre-code era released by the Warner Archive.
All of the Cool and Classic here

Blu-ray Debuts:
"Full Metal Jacket" (Warner), Stanley Kubrick's take on Vietnam is really a two-part take on the destruction of the human psyche and soul. Dispassionate where other Vietnam films are effusive, it's nonetheless a harrowing, brilliant portrait, and it gets a new special edition for its 25th Anniversary, including the original documentary "Stanley Kubrick's Boxes." Read Videodrone's interview with Matthew Modine and see a clip from the film here.
"Grosse Pointe Blank" (Hollywood) and "High Fidelity" (Touchstone) are two of the best John Cusack films of the 1990s, the former a hit man satire infused with eighties nostalgia, the latter a terrific adaptation of the Nick Hornby novel.
"Spaceballs: The 25th Anniversary Edition" (MGM), Mel Brooks' parody of the "Star Wars" phenomenon, is a spotty farce but it has its fans, and "Sebastiane" (Kino) and "The Tempest" (Kino) are two more Derek Jarman classics debuting on Blu-ray.
Peruse all the new Blu-rays here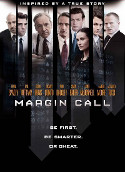 New on Netflix Instant:
"Margin Call" (2011) accomplishes something that Oliver Stone failed to show in his "Wall Street" sequel: it explains how and why the market crash happened.
"Warrior" (2011) stars Joel Edgerton and Tom Hardy as brothers who square off in the world of mixed martial arts in a MMA tournament.
A collection of Oscar winners arrives on Netflix instant: Best Film "Platoon" (1986) from Oliver Stone, "Capote" (2005) with Best Actor Philip Seymour Hoffman, and "The Accidental Tourist" (1998), Lawrence Kasdan's serio-comic adaptation of the Anne Tyler novel about a travel writer (played by William Hurrt) for people who hate to travel, earned an Oscar for Supporting Actress Geena Davis.
And on the TV side is Helen Mirren in the original "Prime Suspect" (1991) plus series 4-7, and the SyFy channel's "Alphas: Season 1" (2011).
Browse more Instant offerings here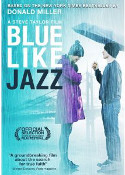 New On Demand
"Blue Like Jazz" arrives same day as Blu-ray and DVD. Available On Demand now (in advance of home video) are "The Babymakers" with Paul Schneider and Olivia Munn (currently in theaters) and "Soldiers of Fortune" with Christian Slater and, and arriving in advance of theatrical release is "[REC] 3: Genesis."
Available on August 10 (same day as theaters) is "Goats" with David Duchovny and Vera Farmiga, and in advance of theatrical release comes "About Cherry" with James Franco and Heather Graham and "Bachelorette" with Kirsten Dunst and Isla Fisher (both set to open in September).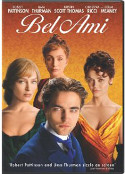 Available from Redbox this week:
Day and date with video stores: "Bel Ami" (Sony) with Robert Pattinson and Uma Thurman and "Blue Like Jazz" (Lionsgate), both DVD only
Also arriving in Redbox kiosks this week: "American Reunion" (Universal), with the entire original "American Pie" cast, on Blu-ray and DVD, plus the acclaimed "Margaret" (Fox), the theatrical version only, "Being Flynn" (Universal) with  Robert De Niro, and the documentary "The Interrupters" (PBS), all DVD only.
Coming next week:
"The Hunger Games" (Lionsgate) (Available Saturday, August 18)
"Tonight You're Mine" (Sony)
"Kill List" (IFC)
"The Raid: Redemption" (Sony)
"Juan of the Dead" (eOne)
"Paradise Lost 3: Purgatory" (HBO)
"Glee: The Complete Third Season" (Fox)
"Dexter: The Sixth Season" (Paramount)
"Community: The Complete Third Season" (Sony)
"Rosetta" (Criterion)
"La promesse" (Criterion)
"Jaws" Blu-ray (Universal)
"The Royal Tenenbaums" Blu-ray (Criterion)
"Les Vampires" Blu-ray (Kino)