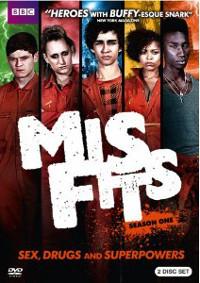 Misfits: Season One (BBC), a British series about a group of troubled teens imbued with super powers after a freak electrical storm, is not a superhero series, at least not in the conventional sense. These are troubled kids, each with their own issues, and the powers are extensions of their own private demons, fears, and identity issues. The shy, introverted Simon, for instance, becomes invisible when he feels especially vulnerable. It could be really tiresome if it wasn't handled intelligently and this is a pretty smart series. Like the best kinds of genre TV, it uses the conventions of fantasy as a way to get at human issues.
Lauren Socha, Robert Sheehan, Nathan Stewart-Jarrett, Iwan Rheon, and Antonia Thomas star as the five teens tossed together in community service, not friends in any way but forced to pull together when the powers manifest, and not just in their group. When their probation officer turns feral and attacks them, self-defense makes them conspirators to murder. I mean, it's not like anyone is believe this group of misfits, even if they're not the only ones changed in the storm.
These kids are not particularly likable in the first episodes, but they are compelling and they grow on you. They've essentially been abandoned and, for better or worse, this is the first time they've belonged to a group As they learn to stand up for one another, it's the first time that some of them have ever really made a commitment to anyone besides themselves. Comparisons to "Buffy the Vampire Slayer" and "Heroes" are inevitable, but this distinctly British take is more raw, less pulpy, and filled with anger and resentment. It's also filled with sexuality, foul language, and bad behavior, along with some violence.
The show has completed three series in Britain with a fourth ready to run in the fall. This set of six episode collects the complete first series from 2009. Six episodes on two discs, plus the featurettes "The Making of Misfits," interviews, and "Simon's Films," a collection of the videos made by the character in the show. DVD only.