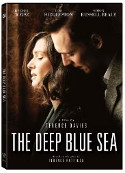 New Releases:
"The Deep Blue Sea" (Music Box), adapted from Terence Rattigan's play by Terence Davies, is a ravishing and devastating, a romantic drama of impossible love between the cultured wife (Rachel Weisz) of a loving older husband and a hot-tempered working class war veteran (Tom Hiddleston) in the years after World War II. Davies' direction is graceful and intimate and loving, embracing her story as both tragic and liberating. Blu-ray, DVD, and On Demand. Videodrone's review is here.
"Silent House" (Universal), a horror film starring Elizabeth Olsen, is more than simply a haunted house movie. This remake of the Oscar nominated "La Casa Muda" from Uruguay is, in the words of MSN film critic Kat Murphy, "head-trip territory." Blu-ray, DVD, and On Demand.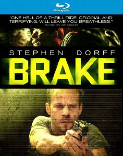 "Brake" (IFC) is another claustrophobic thriller, this one starring Stephen Dorff as a Secret Service agent trapped in a Plexiglass box in the trunk of car. Blu-ray and DVD.
"Jiro Dreams of Sushi" (Magnolia) is a documentary portrait of the most celebrated sushi chef in the world. Blu-ray, DVD, and On Demand.
From Israel comes the satire "Footnote" (Sony), one of five Academy Award nominees for Best Foreign Language Film (Blu-ray, DVD, and On Demand), and from Norway is "The Monitor" (Lionsgate), a thriller starring Noomi Rapace (DVD only).
Browse the complete New Release Rack here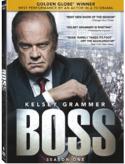 TV on Disc:
"Boss: Season One" (Lionsgate), the acclaimed Starz original series, stars Kelsey Grammer as the Mayor of Chicago and the reigning king of the political machine, holding on tight as he fights a degenerative disease eating away his mind. Though nowhere near as popular as its sex-and-gladiators series "Spartacus," it's the network's best original series to date and Grammer sinks his teeth into the role with the ferocity it demands. Eight episodes on two discs, plus supplements, on Blu-ray and DVD.Videodrone's review is here.
"Endeavour" (PBS) is the "Inspector Morse" prequel, starring Shaun Evans as the young Detective Constable Morse on a case that takes him back to Oxford and changes the course of his career. Originally shown in the U.S. on "Masterpiece Mystery." Blu-ray and DVD. Reviewed on Videodrone here.
"Treasure Island" (Vivendi), the new mini-series adaptation made for SyFy, stars Eddie Izzard as Long John Silver and co-stars Donald Sutherland and Elijah Wood. Blu-ray and DVD.
Also new: "Inspector Lewis: Series 5" (PBS), the British mystery series shown stateside on "Masterpiece Mystery" (Blu-ray and DVD) and "Childrens Hospital: Season 3" (Warner), the live-action soap opera spoof from Cartoon Network (DVD only), plus "Star Trek: The Next Generation – Season One" (Paramount) debuts on Blu-ray.
Flip through the TV on Disc Channel Guide here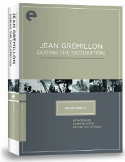 Cool and Classic:
"Jean Grémillon During the Occupation (Eclipse Series 34)" (Criterion) casts a welcome spotlight on the work of a French director little known outside of France, notably a trio of films he directed during the German occupation that are considered his best work: "Remorques" (1941) starring Jean Gabin, "Lumière d'été" (1943), and "Le ciel est à vous" (1944). Let the rediscovery begin. DVD only, with essays. Videodrone's review is here.
"Institute Benjamenta" (Zeitgeist), first live action film from surrealist animators The Brothers Quay, is remastered for a new DVD edition, along with a 2007 short from the  filmmakers.
Derek Jarman's 1988 "The Last of England" (Kino) is also remastered for DVD and its Blu-ray debut, and "Kunoichi" (Sentai) is a Japanese Ninja thriller from 2011 (DVD only).
Plus Warner Archive releases three films from Jean Negulesco's early noir period, including "Three Strangers" and "Nobody Lives Forever," on their MOD service. Reviewed on Videodrone here.
All of the Cool and Classic here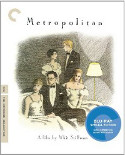 Blu-ray Debuts:
"Star Trek: The Next Generation – Season One" (Paramount) follows the original series in making the leap to Blu-ray, newly mastered from the original film elements and filled with supplements. Videodrone's review is here.
"Metropolitan" (Criterion) was the confident and witty feature debut for director Whit Stillman, and his 1998  "The Last Days of Disco" (Criterion) his third and most popular film, and for more than a decade his final film (until "Damsels in Distress" this year). Both arrive on Blu-ray from Criterion in new high-definition masters with the old director commentary from the earlier DVD releases.
"They Made Me a Fugitive" (Kino), probably the closest the British cinema ever came to creating a true film noir, is a grim crime thriller starring Trevor Howard on a mission of revenge. Reviewed on Videodrone here.
Peruse all the new Blu-rays here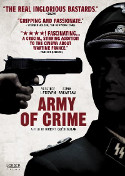 New on Netflix Instant:
"Army of Crime" (2009) is not a "Dirty Dozen"-style thriller but an engrossing war drama from Robert Guédiguian based on a true story of a resistance force in Nazi-occupied Paris formed of French Jews, communists and immigrants—the very "undesirables" targeted by the Nazis.
Miranda July's "The Future" (2011) is an offbeat comedy about a hip young couple adrift in stasis and self-doubt, narrated by a shelter cat awaiting adoption.
Mark "Mutant Girls Squad" (2010) down for you "WTF?!" viewing, a truly insane, exceedingly violent, tongue-in-cheek action movie from Japan about teenage girls with crazy powers unleashed on the world.
Also new: "An Officer and a Gentleman" (1982) with Richard Gere and Debra Winger, "Flirting with Disaster" (1996) with Ben Stiller and Patricia Arquette, and the cinema documentaries "Roman Polanski: Wanted and Desired" (2008) and "Cameraman: The Life and Work of Jack Cardiff" (2010).
Browse more Instant offerings here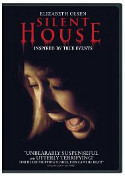 New On Demand
Available On Demand same day as home video is "The Deep Blue Sea" with Rachel Weisz, the horror film "Silent House" with Elizabeth Olsen, "Footnote" from Israel and the documentary "Jiro Dreams of Sushi." See New Releases above.
Available on Friday, in advance of its theatrical release, is the thriller "The Good Doctor" with Orlando Bloom and Riley Keough.
Available from Redbox this week:
Day and date with video stores: "Brake" on Blu-ray and DVD and "My Way" and "Meeting Evil" on DVD only. See New Releases above.
Also arriving in Redbox kiosks this week: "Mirror Mirror" with Julia Roberts and Lily Collins (in Blu-ray and DVD, reviewed here) and "Intruders" with Clive Owen (reviewed here). Flashback release of the week: "The Machinist," a 2004 psychological thriller starring pre-Batman Christian Bale.