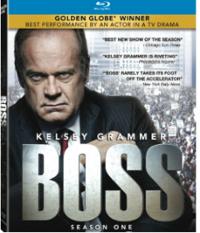 Boss: Season One (Lionsgate), the acclaimed Starz original series, stars Kelsey Grammer as the Mayor of Chicago and the reigning king of the political machine, holding on tight as he fights a degenerative disease eating away his mind.
This is a show that puts its belief in the mercenary cynicism of political benevolence right on the surface. There's plenty of talk of legacy and elbowing for power in the political squabbles and election maneuvering, but not much engagement with actual governing or passion projects or visions of change.
Grammer's Mayor Tom Kane is a hardball player in the political game but his determination to hold on to power in the face of both external (rival politicians) and internal (his deteriorating mind and body) threats is not to any end but power itself: winning the game at all costs. And with power comes all the corrupting rewards we associate with it: money, sex, dominance, and the ability to eliminate anyone who refuses to get with the program. Yes, every cliché we have about politics at its most corrupt and cynical is pulled out here.
That's also what makes it so entertaining, like a savvy soap opera with clever scripting and a high pedigree. Grammer sinks his teeth into the role with the ferocity it demands, playing the benevolent public servant in front of the cameras and crowds and plotting his power plays and petty vengeances behind closed doors with his trusted staff (Kathleen Robertson and Martin Donovan), whose loyalties he has reason to test. Also under suspicion is his wife Meredith (Connie Nielsen), a mutually beneficial in-name-only arrangement that only late in the eight-episode season reveals the partnership behind the pose.