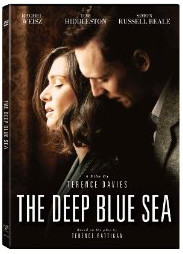 The Deep Blue Sea (Music Box), adapted from Terence Rattigan's play by Terence Davies, is ravishing and devastating, a romantic drama of impossible love between the cultured married woman (Rachel Weisz) and a hot-tempered working class war veteran (Tom Hiddleston) in the years after World War II.
The film slips back and forth through the story, as if "drifting in and out of memory" (as Davies describes it in his commentary), and the grace of his filmmaking enhances that quality of floating through her story, both in the moment of intimacy and looking back in hindsight. Davies connects on a deep, devoted level to Hester (Weisz), a woman who clearly married young to a much older man (Simon Russell Beale), a very proper judge from the aristocratic classes and old money. She only realizes how much she has missed out on the swooning ecstasy of love and passion and sex when her heart is carried away by Freddie (Hiddleston), a former RAF bomber pilot struggling to find his place in the post-war world.
All this is suggested rather than explicated as we tour her odyssey, which begins at her lowest, most desperate moment and drifts back on her tumultuous emotional journey. She very much likes her husband, a decent and affectionate and generous man, but she is brought to life by Freddie. Even when it is clear that any permanent relationship between them is doomed (their experiences are simply too different for their characters to bridge), she never wavers: love over compromise, even at the cost of such pain. Davies embraces her story as both tragic and liberating.