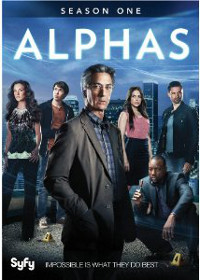 Alphas: Season One (Universal) is the SyFy channel's answer to "X-Men" on a budget. Created by Zak Penn (whose superhero credentials include screenplay contributions to "X2," "The Incredible Hulk," and "The Avengers," among others), it centers on a crew of misfit mutants called "alphas" drafted by the government to use their special abilities in a special unit to find and, when necessary, fight others with unique powers.
David Strathairn's Dr. Rosen anchors the show as the human (non-Alpha) psychiatrist who is also the paternal unit leader, dedicated to helping his people keep a handle on the sometimes emotionally and physically debilitating effects of their abilities, be it adrenaline-boosted strength (Malik Yoba as the mission leader), heightened senses (Azita Ghanizada), the ability to see and tap into the entire electromagnetic spectrum (Ryan Cartwright), the power to push suggestions into the minds of others (Laura Mennell), or the uncanny ability to hit any target (Warren Christie).
There's nothing unique about this variation on a theme, which recalls "The X-Files" and "Fringe" (among other shows) on a cable TV budget. Apart from the usual character conflicts and familiar struggles with self-esteem, all that this show really had in its pocket (besides the high-concept twist in the freak-of-the-week roll call of super-powered targets) is the slow-building suggestion that the government is not serving any interest but their own and this team may be on the wrong side of the fight. They've been tasked with shutting down an underground resistance group of alphas (branded a "terrorist organization" by the government) and even our heroes are treated with wary suspicion by the government officials in charge of the unit.
All the potentially interesting psychological angles are handled in the most obvious, least interesting ways. There is a potentially interesting show here, if only they would stop treating it like a comic book and more like a crucible for actual human drama and conceptual exploration.
11 episodes on three discs, with an extended cut of the premiere episode (running a healthy 82 minutes), footage from the "Alphas" panel at the 2011 Comic-Con featuring David Strathairn, Zak Penn and executive producer Ira Steven Behr, and Q&A sessions with Strathairn, Christie, Yoba, and Penn and Behr answering questions sent via Facebook. On DVD only. The second season begins  in mid-July on SyFy.