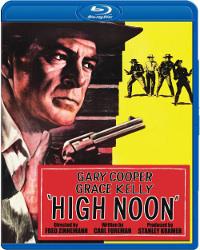 High Noon (Olive), one of the best loved westerns of all time, has been called an old-fashioned celebration of courage and responsibility in the face of impossible odds, an ironic dissection of the western myth, and a blast of moral outrage at the silence and passivity of American citizens. Howard Hawks claimed this film inspired him to make "Rio Bravo," because he couldn't fathom a sheriff who went around begging for help. There's so much loaded weight attached to the film (from famously right-wing lead Gary Cooper to famously liberal screenwriter Carl Foreman, who was blacklisted by Hollywood) that it can overwhelm what is essentially a lean, dusty western classic set to the real time of a ticking clock, counting down the minutes until a gang of killers ride in looking for revenge on Sheriff Cooper.
Grace Kelly plays Cooper's Quaker bride, anxious for him to set aside all thoughts of violence on this their wedding day, and Thomas Mitchell, Lloyd Bridges, Otto Kruger, Lon Chaney, Henry Morgan, Lee Van Cleef, and Katy Jurardo co-star. Fred Zinneman directs for producer Stanley Kramer, and Tex Ritter sings the legendary theme song: "Do not forsake me, oh my darling."
It's been on DVD before but has been remastered in HD for this edition from a finegrain 35mm print for a new DVD edition and its Blu-ray debut. Features the 23-minute documentary "The Making of High Noon," a 1992 featurette narrated by Leonard Maltin, but not any of the other supplements from the previous DVD special edition.