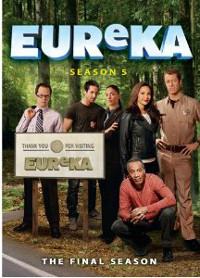 Eureka: Season 5 – The Final Season (Universal), the whimsical SyFy original series about a secret government think-tank town and the most popular show on the SyFy network of the past couple of years, arrives on DVD mere days after the broadcast of the series finale
Picking up where the Season Four cliffhanger left up hanging, with the interstellar flight to Titan sabotaged by players unknown, we find the truth to the conspiracy and a familiar character behind the plot while Sheriff Jack Carter (Colin Ferguson), the sardonic everyman in the population of maverick inventors and eccentric geniuses, leads the investigation to find the missing crew with Dr. Henry Deacon (Joe Morton) providing the tech support.
Along with the regular cast of characters (Salli Richardson-Whitfield​ as Allison Blake, Erica Cerra as former deputy turned head of security Jo Lupo, Neil Grayston as Douglas Fargo director of Global Dynamics, Niall Matter as computer guy Zane Donovan, and Kavan Smith is Deputy Andy, short for android) are returning and recurring characters played by Felicia Day, Wil Wheaton, Ming-Na, and Deborah Fiorentino, plus return visits by Jack's daughter Zoe (Jordan Hinson). And really, it's the cast and the characters — and the humor embedded in the byplay — that makes the show.
Like previous seasons, we have alternate realities, hijacked minds and bodies, espionage, conspiracies, and all sorts of experiments gone haywire that threaten the town and possibly the world. Which, when you think about it, does give the government some justification in the final episodes when it decides to shut the place down.
Fear not, the show ends not with a memorial but a celebration, and even offers a fitting tribute to our every day hero, Sherriff Carter: "I remember," says Dr. Holly Marten (Felicia Day) as she recovers her lost memories. "You guys are smart but the sheriff is the strong force. He holds it all together." And the smart guys realize that she's right.