Singin' in the Rain: Ultimate Collector's Edition (Warner) is arguably the greatest American musical ever made. It's certainly one of the most fun, a knockabout look of the transition from silent to sound movies: lousy history but a blast of singing, dancing, romancing energy and color.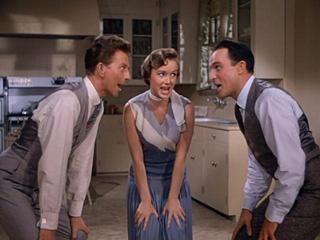 Gene Kelly is the vaudeville schlub turned movie stuntman and finally matinee idol who falls in love with girl-next-door extra Debbie Reynolds, much to the slow-burn anger of leading lady Jean Hagen (in a catty performance with a nasal Brooklyn screech). His introduction is brilliant and the film goofs on his rise to stardom twice, first in a glib radio address with flashback gag punchlines, then again in a glorious set piece that reworks the story as a dance/ballet. Donald O'Conner literally climbs the walls in the show-stopping acrobatic dance number "Make 'Em Laugh" and Kelly stomps, slides, and taps through the rain-slicked studio streets in the title number. Why? Because he's gotta dance!
The box set features both the newly remastered Blu-ray from a 4k scan of the Technicolor 3-strip negatives (which veteran film archivist and restoration engineer Robert Harris praises to the skies at Home Theater Forum) and two DVDs, plus a few gift-type goodies.
The Blu-ray features the new feature-length documentary "Singin' in the Rain: Raining on a New Generation" plus the commentary track from the previous DVD special edition featuring director Stanley Donen, actors Debbie Reynolds, Donald O'Connor, Cyd Charisse, and Kathleen Freeman, screenwriters Betty Comden and Adolph Green, Baz Luhrmann (the director of "Moulin Rouge"), and film historian Rudy Behlmer, edited together as a kind of audio documentary in its own right running along with the film.