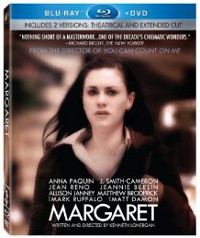 Margaret (Fox), the second feature from director / screenwriter / playwright Kenneth Lonergan (following "You Can Count On Me"), was shot in 2005 and caught in a kind of limbo for six years. The details are no long important, but after legal wrangles and creative fights, a 150-minute cut was released in a few cities in 2011, and then it practically disappeared, resurfacing in early 2012 after a long campaign by fans, supporters, and folks like me who never had a chance to see the film on its original release.
It's a powerful, provocative, ambitious drama set in the shadow of September 11, 2001, a marvelously messy film about the messiness of emotions and people and relationships, especially as they are tested in extreme circumstances. Pre-"True Blood" Anna Paquin is the high school girl Lisa, the privileged daughter of divorced artist parents, clashing with her actress mother (J. Smith-Cameron) and desperately trying to connect with her distant (physically and emotionally) writer father (director Lonergan himself) while dealing a trauma that upends her sense of emotional stability.
Lisa is an amazing character: infuriating, arrogant, anxious, guilt-ridden, vulnerable, aggressive, precocious… a teenager turning young adult, yes, but a fully realized human being who constantly surprises because she contains a multitude of impulses and contradictions that we're not used to seeing on the screen. Her story is all about flailing for meaning and understanding in a world where she doesn't even understand herself.