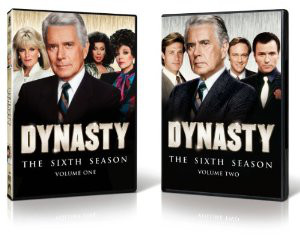 Dynasty: The Sixth Season (Volumes 1 & 2) (Paramount) – John Forsythe is Denver oil magnate and family patriarch Blake Carrington, Linda Evans his loyal wife Krystle, and Joan Collins his bitchy, conniving ex-wife Alexis in the glitzy nighttime soap of dirty dealing, illicit affairs, backroom conspiracies, hissing spats, and hair-pulling catfights, all of it tastefully garish and elegantly outré.
This show differentiated itself from "Dallas," the juggernaut of prime time glossy soaps, by going for the full throttle melodrama of the rich and famous and (in this season) royal: Blake's daughter Amanda (Catherine Oxenberg) marries the Prince of Moldavia (Michael Praed), and this season opens in the aftermath of a very dramatic wedding interrupted by an untimely and very rude revolution that deposes the royal family, holds Blake and party hostage, and even tosses Krystle and Alexis into the castle dungeon (giving Evans the opportunity to play damsel in distress and cry "Blake! Save me!"; clearly not the most empowering of shows).
By this season, only Pamela Bellwood and John James are left from the debut season supporting cast (and it's the last season for Bellwood at that). Emma Samms replaced Pamela Sue Martin as Fallon a few seasons back, and Jack Coleman takes over from Al Corey as Steve, and Catherine Oxenberg, Heather Locklear, and Diahann Carroll co-star. It's not really my kind of show, but I got a kick out seeing young, pre-"Heroes" Jack Coleman as a rich young kid in a feathered haircut (what a nice looking boy!).