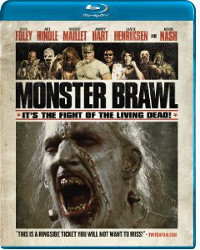 Monster Brawl (Image) is a concept for a culture that can't get enough of extreme fighting events and bad monster movies: a WWE-styled brawl featuring monsters, ghouls, and various undead creatures. With Dave Foley doing a sub-Howard Cosell as a sports announcer who has clearly seen better days and Lance Henriksen doing voice-over duties in a growling deadpan, this card of monster mash-up death matches has fun dropping horror movie monsters into the conventions of TV sports programs (because who doesn't want Frankenstein trash talk his opponent in grunts and roars?).
Unfortunately, the cleverness ends at the concept of Fight of the Living Dead (Swamp Gut versus Werewolf! Witch Bitch versus Cyclops! Zombie Man on the loose in the broadcast booth!) and falls apart in the follow-through. Not much of a script, even less direction, and what you have left is a bunch of guys in monster suits and make-up tossing each other around a ring on a foggy graveyard set. Kind of reminds me of "Orgy of the Living Dead" by way of that MTV claymation "Deathmatch" series, only not as funny or as violent. For that reason alone you gotta give it up for poor Foley, who has the right dubious attitude and sardonic delivery to make at least his scenes entertaining. And yes, that is Kevin Nash as the trash-talking Colonel on the American zombie soldier project. If that means nothing to you, then you probably won't get a lot out of this spoof.
Blu-ray and DVD, with commentary by writer/director Jesse Thomas Cook and producers Matt Wiele and John Geddes, a featurette, and outtakes.
More direct-to-disc action, horror, and westerns at Videodrone