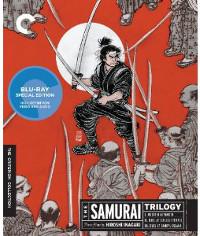 The Samurai Trilogy (Criterion), Hiroshi Inagake's three-film adaptation of Eiji Yoshikawa's epic novel, debuted the same year as Kurosawa's The Seven Samurai and was one of the most popular cinematic exports of its era. Musashi Miyamoto was a real life swordsman elevated to the stature of almost mythic historical hero and this series embraces the mythic dimensions with a removed, distant style that elevates the character to tragic hero.
Toshiro Mifune enters Samurai I: Musashi Miyamoto (1954) as a brash and ambitious peasant who desires fame and power as a swordsman. His dreams of glory in war sour when his army is routed and he becomes hunted by the authorities, but with the "tough love" attentions of a kindly but severe monk helps him develop from a hot-tempered outlaw to thoughtful swordsman. Inagake's somber color epic is very different from the energetic action of Kurosawa's films. The sword fights and battles are more theatrical, staged in long takes that emphasize form and movement over action, and Mifune brings a sad, almost tragic quality to the samurai warrior Miyamoto, whose dedication proscribes him to a lonely life on the road.
While Samurai I can stand on its own, it is more properly the first act of an epic story and it takes on greater stature in in light of the rest of Inagaki's stately, contemplative epic.