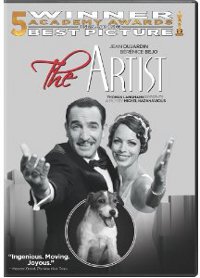 The Artist (Sony) is a valentine to silent movies. You've likely heard that before and it's true, but it's more than that. A modern movie in a classical mode, shot in glorious black and white without spoken dialogue (but filled with music and sound) in a directed with a lively spirit of romance and adventure and joy, it is a celebration of the dreams and fantasies and magic of the movies of every age.
Embraced by film critics and audiences all over the country, it generated a renewed interest in silent movies and it charmed Hollywood, earning ten Academy Award nominations and earning five statuette, including Best Picture, Best Director (Michel Hazanavicius), and Best Actor (Jean Dujardin). Not bad for a foreign film shot on location in Hollywood with French stars, American co-stars, and a charismatic pooch who almost steals the film. And for reasons I don't quite understand, it has suffered a backlash from some of the movie lovers you would most expect to appreciate a tribute to the golden era: fans of the very classic movies the film celebrates.
So let's just be clear about one thing: The Artist is not an attempt to recreate the art of silent cinema at its height. It does not have the richness or ambition of Sunrise or Metropolis or The Crowd or The Gold Rush, and it doesn't pretend otherwise. It is an appreciation of silent cinema from a director who quite deftly incorporates the flavor of silent moviemaking, with its physically expressive acting, longer shots, and more patient editing rhythms, with a more modern sensibility for contemporary audiences. And it is a delight.