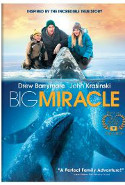 New Releases:
"Big Miracle" (Universal) stars Drew Barrymore as a Greenpeace activist and John Krasinski as a small-town reporter who team up to help rescue three gray whales trapped in ice in Alaska. The family drama, based on a true story, is on Blu-ray, DVD, and On Demand. Videodrone's review is here.
"Jeff Who Lives at Home" (Paramount) is a low-key comedy starring Jason Segal and Ed Helms as estranged brothers and Susan Sarandon as the mother still involved in their lives. Blu-ray, DVD, On Demand and at Redbox. Read Videodrone's interview with Susan Sarandon here.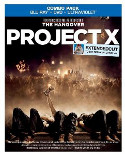 "Project X" (Warner), a fake-found-footage teen comedy, chronicles an outrageous high school graduation party with R-rated dimensions. "The FP" (Image), a parody of sports movies, gang dramas, and eighties breakdance films, is a much more clever film, according to critics. Both on Blu-ray, DVD, digital download, and On Demand.
"Seeking Justice" (Anchor Bay) speeds Nicolas Cage's race to box-office oblivion with another thriller that rushes to home video after a nominal theatrical release. Blu-ray, DVD, digital download, and On Demand. Even more obscure is Guy Maddin's "Keyhole" (Monterey), a gangster drama inspired by 1930s Hollywood films and Homer's "The Odyssey."
The foreign releases this week include "Attenberg" (Strand), the Greek entry for the Academy Awards, and this week's documentaries include the big oil expose "The Big Fix" (Green Planet). Both DVD only.
Browse the complete New Release Rack here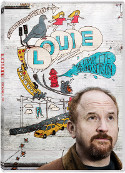 TV on Disc:
"Louie: Season Two" (Fox) continues the FX original series from Louis C.K., hailed by many critics as one of the smartest and most daring shows on TV. And funny too! A sitcom by strict definition, it's not like any sitcom you've ever seen. 13 episodes on two discs, Blu-ray and DVD. Videodrone's review is here.
"Franklin and Bash: The Complete First Season" (Sony) stars Mark-Paul Gosselaar and Breckin Meyer as the best friends, business partners, and most irreverent legal team on television, and co-stars Malcolm McDowell as their boss. The second season of the TNT original series is already in progress. 10 episodes on three discs, DVD only. Reviewed on Videodrone here.
"The Sarah Silverman Program: The Complete Series" (Shout! Factory) collects all three seasons and 32 episodes on Comedy Central series (including the DVD debut of Season Three) in a seven-disc box set. DVD only.
"Web Therapy: The Complete First Season" (eOne) is the Showtime incarnation of the web series created by and starring Lisa Kudrow. 10 episodes on two discs, DVD only. "Wilfred: The Complete First Season" (Fox) stars Elijah Wood as a manic depressive who sees his neighbor's pet dog as a man in a dog suit. 13 episodes on two discs, Blu-ray and DVD.
Surf the TV on Disc Channel Guide here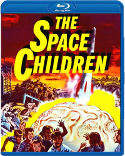 Cool, Classic and Cult:
"The Space Children" (Olive), Jack Arnold's unique cold war / alien invasion film, makes its long-awaited home video debut on Blu-ray and DVD. Videodrone's review is here.
"Lina Wermuller Collection" (Kino) presents new DVD editions and the Blu-ray debuts of three films by the German director: "The Seduction of Mimi" (1972), "Love and Anarchy" (1973), and "All Screwed Up" (1974). In a box set on DVD and individually on Blu-ray.Reviewed on Videodrone here.
"Gray's Anatomy" (Criterion) and "And Everything Is Going Fine" (Criterion) are a pair of tributes to monologist Spalding Gray by director Steven Soderbergh made over ten years apart. Blu-ray and DVD.
"The Colossus of New York" (Olive) is a 1958 "Frankenstein" tale of a scientific genius who becomes a tyrannical monster after his brain is transplanted into a giant mechanical body. Blu-ray and DVD.
"Show People" (Warner Archive) and three other silent classics from are featured in Videodrone's MOD Movies round-up this week.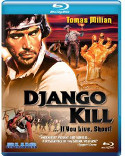 Blu-ray Debuts:
"Django Kill" (aka "… If You Live, Shoot!") (Blue Underground) is one of the great spaghetti westerns, and perhaps the best you've never heard of it, a savage, cynical, almost unbelievably bleak film with Tomas Milian taking on the town that mercy forgot.Videodrone's review is here.
"Newsies: 20th Anniversary Edition" (Disney) is the all singing, all dancing, all street urchin newsboys musical starring Christian Bale as a street kid in turn of the century New York City.
"The Hidden Blade" (Palisades Tartan) is an elegiac samurai drama about honor and purpose in the rapidly changing world of the 1860s. "The Sailor Who Fell From Grace with the Sea" (Shout! Factory) is the notorious American adaptation of the Yukio Mishima novel with Kris Kristofferson and Sarah Miles.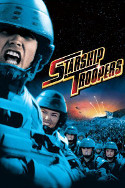 New on Netflix Instant:
"Starship Troopers" (1997), Paul Verhoeven's adaptation of Robert Heinlein's landmark sci-fi war novel, is a strange (and strangely entertaining) mix of patriotic fervor, fascist ideology, and media satire. More at Videodrone here.
"Rounders" (1998) stars Matt Damon as a former poker hustler who gets sucked back in the gambling world he left behind by his sleazy, scamming buddy (Edward Norton). "Sea of Love" (1989) features Al Pacino as an overworked police detective on the edge of a mid-life crisis who falls madly into bed with beautiful suspect Ellen Barkin.
Rediscover a pair of indie dramas with "Nine Lives" (2005), from writer/director Rodrigo Garcia and some of the finest actresses of the last decade, and "Morvern Caller" (2002), starring Samantha Morton as a young Scottish woman reborn in a trip to Spain.
"Lonesome Dove" (1989), adapted from a sprawling novel by James McMurtry and starring Robert Duvall and Tommy Lee Jones, is arguably the greatest TV western ever made.
More New on Netflix picks here
New On Demand
The following New Releases are also available On Demand: "Big Miracle," "Wanderlust," "Jeff Who Lives at Home," "Project X," and "Seeking Justice." See New Releases above.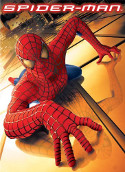 New On Demand:
"Jeff Who Lives  at Home" (Paramount) arrives the same day as video stores (Blu-ray and DVD), as does "Seeking Justice" (Anchor Bay) (DVD only). See New Releases above.
Also arriving in Redbox kiosks this week: "Red Tails" (Fox), the first big screen film about the Tuskegee Airman, the first African-American combat unit to serve in World War II, and the romantic comedy action film "This Means War" (Fox), with Chris Pine and Tom Hardy fighting over the affections of Reese Witherspoon.
Flashback releases at Redbox: the original 2002 "Spider-Man" (Sony) arrives in time for the new big screen reboot, and the wry British gangster comedy "In Bruges" (Universal) with Colin Farrell and Brendan Gleeson.