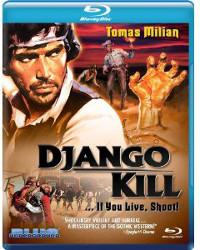 Django Kill (aka … If You Live, Shoot!) (Blue Underground) is one of the great spaghetti westerns, perhaps the best you've never heard of it. Directed by Guilio Questi and starring Tomas Milian as "The Stranger" (the "Django" title was added for American release), opens as a simple revenge film (simple at least simple by spaghetti western standards) but disposes of the revenge quickly and then sets the Stranger against the thoroughly mercenary schemers of a town even worse than the cutthroat gang. "The people of the Indian tribes call it The Unhappy Place," we're told, an understatement that is almost bitterly comic. This is a place where a wounded man is literally torn to pieces by the townsfolk when they discover the bullets in his wounds are made of gold!
Questi was a committed leftist and, while the film is apolitical as such, he lets this vision serve as his satire of capitalism at its most mercenary and vicious. Milian isn't exactly the messiah, but he has his share of Christ-like trials as the townsfolk nearly tear one another apart looking for stolen gold, while another subplot twists "Jane Eyre" into gothic horror in the desert. There may not be a more cynical portrait of frontier greed and human corruption in the spaghetti genre, and that's saying something.
The Blu-ray debut features both the uncut version of the film with both Italian and English language soundtracks (the English version momentarily slips into Italian for scenes that were cut for American release), both in mono, with English subtitles. Pick your preference, as both are sloppily post-synched and at times the Italian soundtrack is a more dramatic mismatch to the actors' mouths than the English dub. Also features the 20-minute interview featurette "Django, Tell!" with director Giulio Questi and actors Tomas Milian and Ray Lovelock.