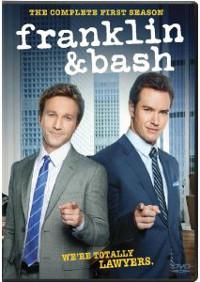 Franklin and Bash: The Complete First Season (Sony) stars Mark-Paul Gosselaar and Breckin Meyer as Peter Bash and Jared Franklin: best friends, business partners, and most irreverent legal team on television. To call them unorthodox is an understatement. These guys border on insubordinate when they pull their antics in the courtroom. It's effective, at least in the fictional culture of TV law, where legal theatrics are tolerated with a patience unknown to the real world. And it's enough to attract the interest Stanton Infeld (Malcolm McDowell), a heavy-hitter attorney with a powerful law firm and an affection for underdogs and eccentrics.
So you can see where this is going: overgrown adolescents who combine total commitment to their clients with an uncontrollable urge to tweak the establishment (represented here by fellow associate Reed Diamond). So yes, it's irreverent and bouncy and fun, the kind of courtroom circus show that hasn't seen since "Boston Legal" left the air, with Gosselaar and Meyer doing a tag-team act as performance artist lawyers. Meanwhile, they keep their old practice alive with the help of equally unconventional assistants, ex-con Carmen Phillips (Dana Davis) and agoraphobic researcher Pindar Singh (Kumail Nanjiani). Garcelle Beauvais co-stars as one of the firm's star lawyers and guest stars this season include Jason Alexander and Tom Arnold as clients and Beau Bridges as a rival attorney with a personal connection.
10 episodes on three discs, plus seven featurettes, three mock commercials, and a gag reel. DVD only. The second season of the TNT original series is already in progress.