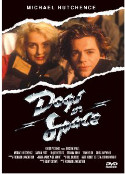 Dogs In Space (Hen's Tooth), set against the punk scene of Melbourne in the late seventies, came out of the same burst of Australian filmmaking that gave us Picnic at Hanging Rock, Breaker Morant, My Brilliant Career, Mad Max, and others. This low-key portrait of social drop-outs, misfits, and musicians living together in a squalid house in state of perpetual sex, drugs, rock and roll, and chaos, came out in the shadow of those more acclaimed films. It was a cult hit on its release, thanks in part to the dramatic debut of INXS singer Michael Hutchence, but largely disappeared from sight in subsequent years.
Now the 1986 film, written and directed by Richard Lowenstein and partially inspired by his own experiences, looks like something of a time capsule, a portrait of an era with special attention to the sensibility of this subculture and the texture of the environment. Without passing judgment, it offers quite a vivid look at a lifestyle that wallows in immediate gratification without giving much thought to the consequences.
The two-disc set, mastered from 2009 restoration of the film, also features two commentary tracks with Lowenstein and his collaborators, Lowenstein's 2009 documentary We're Livin' on Dog Food, about the seventies punk in Melbourne, an archival behind-the-scenes featurette, and music videos among the supplements.