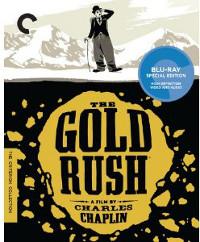 The Gold Rush (Criterion), Charlie Chaplin's 1925 frozen north comedy classic, is just as funny today as it was over eighty years ago, and just as mawkishly sentimental.
Drop him in a muddy Alaska boom town and he's little more than a lovestruck adolescent stepping through emotional trap doors—he  lives in a romantic dream world while the social reality rebuffs his awkward, mooning advances. Give him a prop and a stage, however, and he brings elegance to vaudeville, whether he's eating a boiled shoe or scrambling across the floor of a cabin teetering on the edge of a cliff.
The Little Tramp is not just another prospector hiking into the Alaskan interior with hundreds of ill-equipped dreamers and scruffy roughnecks, he's the pluckiest of them all. He meets deprivation and starvation with ingenuity and farce, but he believed in the underdog romance of his story. I believe in the slapstick ballet of his physical comedy.
In 1942, Chaplin cut more than 20 minutes from the original 1925 silent version and re-released the film with sound narration, a new score, and a different final shot. This was Chaplin's preferred version and thus was better preserved and most version most readily available, but the silent version is the original, the actual "director's cut" of the film, and is still the superior version, without the second guessing of Chaplin, who has a tendency to sentimentalize the film even more in his 1942 cut.