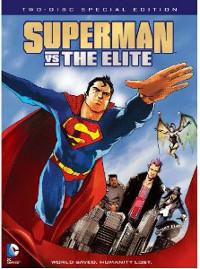 Superman vs. The Elite (Warner), the latest DC Universe Animated Original Movie, opens with a lively op-art credits sequence that tosses nostalgia and modernity together. It's a nice introduction to the collision of Superman's old-school idealism with the ferocious approach by a new group of powerful heroes called The Elite, who take it upon themselves to execute the supervillains and criminals and terrorists they defeat.
Adapted by Joe Kelly from the comic book he created in 2001 and directed by Michael Chang, it's a morality take for the post-September 11, 2001 world, with The Elite declaring war on bad guys. Sounds good, until they choose to play executioner without trial, and come close to genocide when they wipe out the military of a terrorist country with a fair amount of collateral damage.
So yes, there's plenty of debate about justice and moral responsibility. These new heroes, led by the flamboyant Manchester Black (who can control matter with his mind on molecular level), are cheered by a fearful population that wants retribution as much as it wants protection. Superman sounds increasingly like a boy scout as he debates the new superstars of the superhero constellation, but he refuses to shirk his responsibility to the adopted planet. And the epic displays of animated action spectacle culminate in a very effective object lesson in power and restraint from the Man of Steel. It's actually pretty scary (in a fun way) to see him off the leash, and the PG-13 in part comes from the finale.