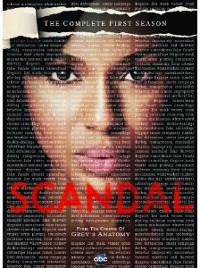 TV is always hungry  for a new twist on a familiar genre. In Scandal: The Complete First Season (ABC), Shonda Rhimes combines political drama and legal show in a format that straddles the new norm of stand-alone cases with serialized stories running through them. And in the mix, she finds a whole tangle of moral quandaries and personal conflicts.
Kerry Washington stars as Olivia Pope, one-time campaign consultant turned head of a crisis management firm. Her team (which is filled by the likes of Henry Ian Cusick, Columbus Short, Darby Stanchfield, and Guillermo Díaz) is a crack unit of political fixers for hire in Washington, D.C., the center of political scandal and public relations crises, and there is no shortage of clients. While there are lawyers on the team (as well as specialists in other areas), this is not about legal maneuvering. It's about protecting clients from legal troubles and media attention by any means necessary, which at times puts them on the wrong side of the law.
The first few episodes are splashy and aggressively provocative, with a storyline turning on a sex scandal with President Fitzgerald "Fitz" Grant (Tony Goldwyn), a compassionate conservative. When a former White House Aide (Liza Weil) comes to Olivia after an affair with the president has left her pregnant (one-upping the Clinton scandal), it comes with a personal sting: Olivia herself had an affair with Fitz and he still loves her. Her feelings are a little more complicated, and not without a jab of self-recrimination and echoes of betrayal.
But there's more to this, as Rhimes begins to reveal a few episodes in, as the political machinations in the White House (much of it involving the religious conservative Vice President Sally Langston, played with holier than thou force by Kate Burton) and the chilly relations between the president and his media-ready wife (Bellamy Young) come to light. Meanwhile there's something strange going on with the firm's newest member (Katie Lowes), and only Olivia knows she's not who she appears to be. In fact, the short spring-launched season ends with Olivia set to reveal all… in the second season. And yes, it's been renewed, so we await the answer.