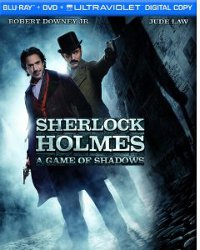 Sherlock Holmes: A Game of Shadows (Warner) is the energized sequel to Guy Ritchie's reincarnation of the world's greatest detective as a smart-aleck action movie hero played with cheeky playfulness by Robert Downey Jr.
There's a strange leveling that home video provides by putting Guy Ritchie's big-budget, action-crammed, ADD-plagued Sherlock Holmes features next to the updated BBC TV "Sherlock" features, produced with smaller budgets and smarter scripts (reviewed on Videodrone here). They couldn't be more different, and yet they offer two different approaches to the literary detective who seems to get a definitive revival every generation or so. For fans of the original fiction, the Benedict Cumberbatch Holmes offers an intelligent update of Doyle's stories. And for the Hollywood culture of bigger, faster, more, there is this revision with Holmes as a rather whimsical prankster.
In this very busy story, Holmes and his brother Mycroft (Stephen Fry) hijack the honeymoon of Watson (Jude Law) and his bride (Kelly Reilly) to save them from Professor Moriarty (Jared Harris), and then head to the continent with a gypsy fortune teller (Noomi Rapace) targeted by Moriarty's assassins to take on the master criminal's latest diabolical scheme. Action ramping, silly costumes, and general mayhem ensues.