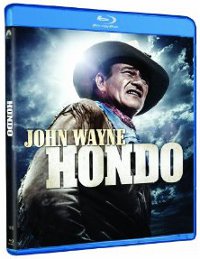 Hondo (Paramount) is one of John Wayne's best westerns of the 1950s, a leathery frontier drama starring Wayne as a Cavalry scout who comes across a lonely homestead where a toughened settler (Geraldine Page) and her son await the return of her brutish husband (Leo Gordon), refusing to leave even as tensions between the Apache nation and the Cavalry heat up into war. Wayne settles into the laconic confidence he brought to his best roles of the 1950s as the wanderer who falls in love with the "plain" frontier wife all but abandoned by her scoundrel of a husband and all but adopts her son, who is eager for a father figure. With his buckskin jacket hugging him like a second skin and his feral dog by his side, Wayne looks like a man of the wilderness as he strides through the desert, a half-Indian scout apart from both the Navajo and the Cavalry who may have found a new life with this married woman.
Directed by John Farrow and adapted from a Louis L'Amour story, it was originally shot in 3-D (that accounts for the preponderance of arrows shot into the camera) but it plays better as a straight, unassuming character-based western adventure. Wayne buddies Ward Bond and James Arness play intolerant Army scouts and Michael Pate, Rodolfo Acosta, and Leo Gordon co-star.
It's newly remastered for Blu-ray and a new DVD edition (though still not available in 3D) with all the supplements from the previous DVD release: commentary by Leonard Maltin, western historian Frank Thompson, and actor Lee Aacker, the featurette "The Making of Hondo," profiles of screenwriter James Edward Grant and actor Ward Bond, and the brief featurettes "From the Batjac Vaults" and "The Apache," plus an introduction by Leonard Maltin.