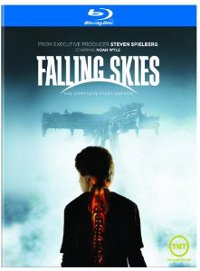 Falling Skies: The Complete First Season (Warner) is the other Steven Spielberg-produced science fiction show from 2011. His lavish Terra Nova, set in the prehistoric past in the lush pre-human jungles populated by impressively animated dinosaurs, had a great look and a familiar approach and it was cancelled. Falling Skies, by contrast, is set in the aftermath of an alien invasion of Earth and features a down-and-dirty aesthetic befitting a world under siege and scripts to match. Without the need for a huge audience to fund its vision, this show can slow down, take measure of the losses, and face what's on the line with every engagement.
Noah Wylie stars as a history professor turned guerilla leader among the survivors of the first wave. A widower with three sons (one of them captured by the aliens), he's both the heart of his squad (made up of both soldiers and civilians) and the head, reminding them all that underdog guerillas have defeated larger, better equipped armies all through history. It's no coincidence that the series is set around Boston, birthplace of the American Revolution.
The show uses its budget judiciously and intelligently, resorting to practical effects where possible (and that kind of presence makes a difference this kind of production) and saving the CGI spectacle for when necessary. Which makes absence — of people, of sanctuary, of hope — the defining atmosphere. Which isn't to say this is anywhere near the level of the "Battlestar Galactica" revival, at least not yet, but the potential is there, along with the mystery of who the aliens are, what they want, and what's to happen to all the children enslaved with biological collars.
10 episodes on two discs on Blu-ray and three discs on DVD. Both feature commentary on the final three episodes, the short "Animating a Skitter" special effect featurette, two even briefer production featurettes, and a 20-minute panel discussion with the cast and creators from the 2011 San Diego Comic Con, plus an Ultraviolet digital copy of the full season for download and instant streaming. Exclusive to the Blu-ray is featurette on the Dark Horse comic book.