While it's not unusual for releases to stack up in certain weeks, especially TV shows in the lead-up to the new fall season, this week has a curious convergence: five different shows from the USA cable network arrive at the same time, all in advance of the USA's summer season, a lightweight alternative to traditional network programming.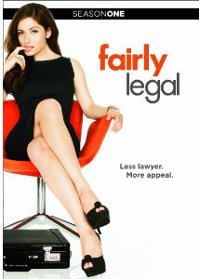 The network found its niche with the "characters welcome" promise of amiable shows that juggled familiar genres (lawyers, doctors, spies, whatever) with small-scale productions, handsomely austere style, and big personalities at the center. And that's what these shows deliver: easygoing stories with light melodrama and clever little hooks. You won't find any of the density or depth or ambition of the HBO or AMC original series, just easy summer viewing.
Fairly Legal: Season One (Universal) is one of USA's newest additions. Sarah Shahi (previously Damian Lewis' troubled partner on the underrated "Life") stars as Kate Reed, the one-time lawyer who turned her back on the family business to become a mediator, using a mix of legal savvy and psychological insight to solve conflicts outside of the courtroom. In fact, she's a whiz at solving everyone's problems but her own. She's in the middle of divorce proceedings with Assistant District Attorney Justin Patrick (Michael Trucco) and actually prefers the ambiguity of separation to the finality of divorce, and she constantly clashes with her stepmother Lauren (Virginia Williams), a woman her own age who has taken over her father's firm after his death. In fact, while she works to break down conflict professionally, she encourages it with Lauren through defiance and insults and general rudeness.
In other words, your typical USA character. She lives on a boat, can't arrive anywhere on time, engineers her schedule specifically to get out of commitments, assigns "Wizard of Oz" ringtones to her regular callers (guess who gets the Wicked Witch?), and does everything she can to rebel from the professional responsibilities of the firm she co-owns with her stepmother and her brother. The through line of the first season, apart from the long-running family conflict, is the mystery of the fourth recipient of her father's will and the secret of her father's legacy, which isn't quite as heroic as she believes.
Continue reading at Videodrone for "Burn Notice" and "White Collar"