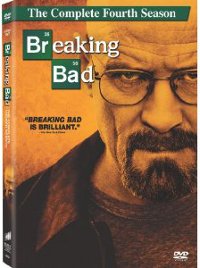 Breaking Bad: The  Complete Fourth Season (Sony) – It is no exaggeration to call the AMC original series Breaking Bad one of the smartest, sharpest, most dramatically daring and accomplished shows on television. It earned its star, Bryan Cranston, three consecutive Emmy Awards for Best Actor on a Drama Series, and co-star Aaron Paul an Emmy for the show's third season, arguably one of the greatest seasons of any show on TV.
The fourth season continues to map the odyssey and the brutal evolution of chemistry teacher Walter White (Bryan Cranston) from desperate cancer victim to superstar meth cook to ferocious player in the drug business. The third season ended with Walter turning his young partner, street dealer turned reluctant player Jesse Pinkman (Aaron Paul), into a killer, and the fourth season charts the toll that crossing that line takes on Jesse, a spiral into self-destruction simply to keep himself from having to face himself. Meanwhile Walter engages is a deadly balance of power with New Mexico drug kingpin Gustavo "Gus" Fring (Giancarlo Esposito), a very careful manager with an unassuming manner and a sterling reputation as a citizen and local businessman.
By now his wife (Anna Gunn) has become a willing conspirator in his operation, at least when it comes to laundering his cash, and his brother-in-law (Dean Norris) is recovering from a near-fatal murder attempt by cartel killers put in motion by Walter's actions. But it's not just about the collateral damage of his dogged determination to make a fortune to leave for his family. Every moral line he crosses costs him a little bit more of his humanity and this season he becomes as ruthless as criminals he threatens with his superior product.