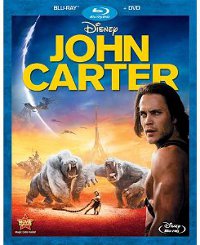 Poor John Carter (Disney). The mega-budget labor of love from Andrew Stanton, the Pixar director ("Wall-E") who chose this huge production as his live-action debut, was branded the flop of the year by the press before it even opened. It became a symbol of runaway budgets, a case of disastrous marketing decisions, and Exhibit A in the case for a failure of studio oversight at Disney's, where the fallout ousted the studio head. In fact, almost everything was discussed except the film itself.
Edgar Rice Burroughs' "John Carter" novels were a major part of the wellspring of inspiration for George Lucas' "Star Wars" and Stanton's film is an old-fashioned fantasy adventure of a Civil War veteran battling alien tribes and giant monsters on the desert planet of Mars. Taylor Kitsch is the American soldier who, hunting for his fortune, is transported to Mars, known to its natives as Barsoom, and discovers that he is essentially a superman on this planet, a prisoner turned hero who battles evil and falls in love with a Princess.
It's not Staunton's fault that "Star Wars" visualized it for the screen first but it's on him that some scenes are so reminiscent of Lucas' space fantasies that his vision feels second hand, and that the enormous amount of CGI characters and creatures makes the film at times feel like an animated feature. But it is lovingly envisioned by Stanton and far more fun than Lucas' most recent efforts.