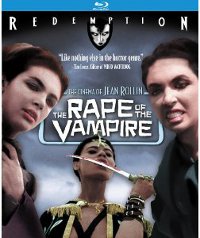 Kino resumes its series of restored editions of cult director Jean Rollin's erotic horrors with three new releases: The Rape of the Vampire (Kino Lorber/Redemption), the film cited as the first French vampire film; Requiem For a Vampire (Kino Lorber/Redemption), a mad mix of dark fairy tale and surreal poetry and one of Rollin's masterpieces; and The Demoniacs (Kino Lorber/Redemption) a surreal pirate film with a dreamlike tale of revenge. (The earlier Rollin releases are reviewed on Videodrone here.) All three are also available on DVD.
The Rape of the Vampire (1970), French erotic horror master Jean Rollin's debut feature, may just be the lost New Wave horror film. Originally conceived and executed as a surreal short about madness and manipulation, it's a modernist twist on classic conventions: crumbling estates and secret passages, angry villagers roused to mob action, haunted girls wandering through delirious rituals in white nightgowns, and their obligatory disrobing. Rollin seems to be making it up as he goes along, bringing back dead characters and killing them off yet again, but he also sends the film spinning in mind-bending directions and climaxes with a revolutionary act that channels Jean Vigo by way of Jean-Luc Godard.
The Demoniacs (1974) is a surreal pirate film on land amidst the skeletons of beached and plundered ships. A pair of survivors, young girls glowing in white nightgowns, wander through the shallows seeking help. The merry quartet of "wreckers" molest and leave the girls for dead, but they come back for revenge. And sex. It's like a ghost story without ghosts. It doesn't make much logical sense but it takes on a dream-like quality appropriate to the gorgeous and bizarre imagery, from a strange tavern adorned with skeletons to a fiery inferno that burns spectacularly against the night sky.
I save Requiem For a Vampire (1971) for last. It's one of his best, and by that I mean one of his weirdest, craziest, most beautifully dreamlike movies. It opens with two schoolgirl nymphets in clown garb blasting handguns from the back of a getaway car careening down a country road. Imagine a gangster film crossing the border from a circus world to a horror movie, where the braided young nymphs dreamily wander through a graveyard (where one falls into a freshly dug grave and is buried alive!) and into a castle of dying vampires and lascivious henchmen. The lyrical first half, with its fairy tale imagery, surreal poetry, and eerie beauty, gives way to astonishingly brutal scenes of kinky decadence and brutal nastiness, but Rollin's ethereal mood gives the largely wordless film a delicacy and a surprising melancholy conclusion. It ultimately is a requiem for a dying race, as well as a gorgeous picture that follows the loony logic of a waking dream.
All three are remastered from original 35mm negatives and feature the original French soundtracks with English subtitles, an introduction by Jean Rollin, a collection of Rollin trailers, and a 16-page booklet with an essay by horror film historian Tim Lucas.
Rape also features two bonus Rollin shorts (Les Amours jaunes, 1958, and Les Pays loin, 1965), the featurette "Fragments of Pavements Under the Sand," interviews, and an alternate version of one scene. "Demoniac" features deleted scenes and interviews. And Requiem has the documentary "The Shiver of Romance" and an archival interview with co-star Louise Dhour, plus an alternative English dub soundtrack.