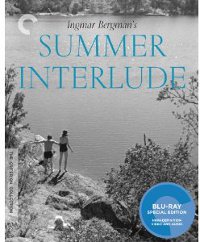 Summer Interlude (Criterion) and Summer With Monika (Criterion), the tenth and twelfth films (respectively) directed by Ingmar Bergman, make a fine match set showing off the two sides of Bergman developing in his early years as a filmmaker.
Summer Interlude (1951), the story of a summer romance between a sunny, confident young ballet student (Maj-Britt Nilsson) and a shy scholar (Birger Malmsten) on the lush vacation islands of the Stockholm archipelago, is a memory film. The older ballerina, now emotionally cocooned in regret and loss, is sent back to those free and easy days when she  receives a handwritten diary, and she revisits the island, now a cold, foggy corpse of its summer lushness, to come to terms with her past.
Lovingly shot by Gunnar Fischer, Bergman's first great cinematographer collaborator, the film is steeped in metaphor: a philosophical rumination on love and loss staged as a story, with characters more like archetypes in a theatre piece. Summer is the charge of youth in the idealism of eternal vacation and the innocence of young love in all its dimensions.
Summer with Monika (1953), starring Bergman's first acknowledged muse Harriet Andersson as the impulsive, anxious, immature young Monika, is more about the complications, the rough edges, the unseen complications in a young couple after the bloom of sexual charge gives way to living in the real world.
Here, summer is less a metaphor and more of the literal time of year that allows these working teenagers to flee the city and live on the islands of the archipelago without a care. For Monika, it is an escape from the reality of the city – her family, her job, the dull life of a working class girl – and only the reality of supplies and food and the onset of autumn's cold weather drives her back from this ambivalent self-made Eden and back to the material world of Stockholm.