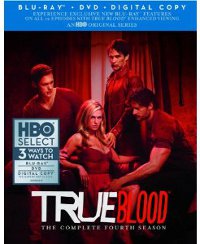 When we left Sookie Stackhouse (Anna Paquin) at the end of Season Three, the telepathic roadhouse waitress turned vampire paramour of Bon Temps, Louisiana, had been transported to Faerieland, which turns out to be a lot less like a Disney movie than a horror movie. Only a few hours pass for her, but when she returns to Earth in True Blood: The Complete Fourth Season (HBO) it's a year later. Her vampire lover Bill Compton (Stephen Moyer) is now the king of Mississippi, her sweetly stupid brother Jason is a police deputy (and the hope of new blood for the werepanther community), and a new coven has taken up residence in town with a an unhappy medium (Fiona Shaw) channeling a very powerful spirit pushing them to war with the vampires.
In other words, another lively season in the bayou with the hapless humans and the supernatural creatures who love them / hate them / feed off them. Alcide is in a new pack, Eric (now serving under Bill) is transformed from icy schemer to lovesick teddy bear, and vampire Jessica having a hard time adjusting to domestic life, while other stories include a shapeshifter family conflict, a V-addicted sheriff (when the most responsible member of your police force is Jason Stackhouse, you are in serious trouble), and a very odd baby scaring the bejesus out of Arlene and Terry. As usual, it's all visualized with a wild mix of weird imagery, nocturnal spookiness, witty characters, and flamboyant splatter humor.
The mix of gothic pulp, supernatural soap opera, overheated melodrama, and steamy R-rated sex and skin is hopelessly addictive, never as smart as its HBO cousins but far more shameless fun. Alan Ball has taken this southern gothic melodrama of vampires in the bayou far from the source material (the novels of Charlaine Harris) and fans have loved his juicy take on the supernatural soap opera so much they have made this show HBO's top original series and bestselling TV on Disc title.