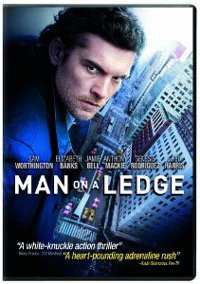 Man on a Ledge (Summit) is heist movie of talented amateurs against a sleazy millionaire, with Sam Worthington as the "man on a ledge" of the title serving as mastermind, team leader, and distraction at the same time.
He's the good cop framed for a theft he didn't commit and somehow his short stay in prison gave him all the know-how necessary to plan and execute a plot right of an "Oceans" movie. The problem is, Worthington is no George Clooney and he's got the B-team (Jamie Bell and Genesis Rodriguez) doing the all the heavy lifting, high-tech safecracking, and last-minute escapes in the air ducts. Worthington just keeps the crowds and the cops entertained with his high-rise song and dance, and even manages to convince the disgraced suicide negotiator (Elizabeth Banks) he personally requested to dig into the conspiracy that sent him down the river.
It's not just improbable, it's downright silly, a super-heist fantasy played out as a righteous rebellion against the Wall Street crooks by the working class 99%, with good intentions and native intelligence trumping sophisticated alarm systems and security professionals at every turn.
The pieces are clever without being smart. Director Asger Leth lacks the precision to pull it all together and Worthington lacks the movie-star charisma or personality to anchor it. What's left is a lot of furious action and entertaining antics around a plot so convoluted you'll hard pressed to untangle it even after its over. Which means it can be entertaining under the right conditions, simply not memorable.