Route 66: The Complete Series (Shout! Factory) – College boy Tod (Martin Milner) takes the drivers seat in his Corvette convertible ("My father gave me that car, just before he died. It's the only thing I've got left") and street wise ladykiller Buz (George Maharis), the rough and tumble pragmatist with a chip on his shoulder, rides shotgun in the original TV road show.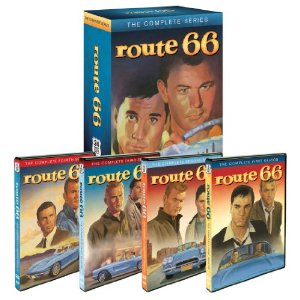 It was kind of a Playhouse 90 on the road, with Tod and Buz as hosts and eternal guest stars as they traveled this great nation of ours looking for work and landed in the midst of dramas playing out in every city and town they encountered. Every episode opens against the landscape of their new location with Nelson Riddle's jazzy theme song providing the continuity. Maharis left the show in the middle of the third season and Glenn Corbett stepped into the passenger's seat as Linc Case, a Vietnam Vet looking for himself on the road, for the rest of the series. Corbett was never as dynamic or charismatic as Maharis but the chemistry improves in the final season as they settle into their friendship and Corbett offers something that had not been seen on TV at the time: the alienated war vet fighting PTSD (though it's never called that) and struggling to find his place in the civilian world.
Created by writer Stirling Silliphant and producer Herbert B. Leonard (who both came from the similarly structured The Naked City), it was the best of its kind and it remains one of my favorite shows. Guest stars appearing in the four-season run include Everett Sloane, Janice Rule, Lee Marvin, Walter Matthau, Sylvia Sidney, Joan Crawford, Dan Duryea, Darren McGavin, Robert Duvall, James Caan, Robert Redford, Gene Hackman, William Shatner, and in the lighthearted "Lizard's Leg and Owlet's Wing," Boris Karloff, Peter Lorre and  Lon Chaney, Jr. play themselves. There are episodes directed by Robert Altman and Sam Peckinpah in the second season. Silliphant wrote the vast majority of episodes himself
The first three seasons were previously released by Infinity Entertainment. Shout! Factory presents the same digital masters as the earlier releases for those seasons (including two episodes cut for syndication), with slightly improved quality for the fourth and final season. 116 episodes on 23 discs, plus a 24th disc with supplements, including a 1990 William S. Paley Television Festival panel featuring writer/producer Herbert B. Leonard, star George Maharis, episode directors Arthur Hiller and Elliot Silverstein, and casting director Marion Dougherty. Collected in four standard cases with hinged flaps in a box set. What it's missing is an episode guide: an anthology show like this, with guest stars in every episode, really needs some kind of guide.