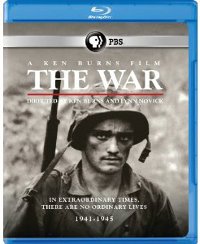 The War (Paramount) – "The Second World War was fought in thousands of places, too many for any one accounting. This is the story of four American towns and how their citizens experienced that war."
17 years after making history with his epic documentary series chronicling the American Civil War, Ken Burns goes to war once again. Teaming up with Lynn Novick, he takes on the good war and the greatest generation with his trademark approach: history from the perspective of the everyday humans who fought, died, and endured.
The broad contours of history are shown through newsreels and photos, home movies and newspaper headlines, and heard through radio broadcasts and period music. But it's the words and stories of soldier, sailors, airmen, Marines, POWs (both military and civilian), and citizens toiling and waiting on the homefront, that give human dimension to the history. There are no experts offering their perspective this time around, only living witnesses and the words of the dead through letters and newspaper editorials (sparingly used and read by the likes of Tom Hanks and others), and their simple eloquence brings a poignant, unforced poetry to the experience.
Burns doesn't shy away from the contradictions of the history – the segregation and racism and unforgivable internment of Japanese-Americans in a nation ostensibly fighting for freedom – as he celebrates the sacrifices and achievements of everyone involved in the war effort. "A thousand veterans of the War die everyday. This film is dedicated to all those who fought and won that necessary war on our behalf."
Seven episodes (running over 15 hours) on six discs, with commentary by filmmakers Ken Burns and Lynn Novick on Episode One and Episode Four (the D-Day accounting "Pride of Our Nations") and the 38-minute documentary "Making The War," which outlines the project's aims and approach. Other supplements include 24 minutes of deleted scenes (including Andy Rooney in a segment on war correspondents) and 55 minutes of Bonus Interviews with 14 of the film's witnesses (including decorated 442nd veteran and Hawaii State Senator Daniel Inouye).