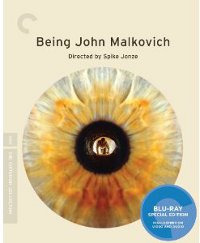 Being John Malkovich (Criterion), a devastatingly funny portrait of unhappiness, desperation, desire, and the vicious things we do for love, catapulted Spike Jonze from music video wunderkind to visionary director and Charlie Kaufman from sitcom scribe to brilliant screenwriter. In 1999 it was fresh and daring and inventive, and more than ten years later, in the age of reality TV and celebrity obsession gone viral, it is as timely and topical as ever, and just as inventive, surprising, devastating, and compassionate.
John Cusack stars as a shaggy, self-important only marionette artist who takes a  break from the angst-ridden wish fulfillment fantasies of his puppet theater to get a paying job and becomes obsessed with an acerbic woman (Catherine Keener) in the office next door. The fact that he's married (to an improbably dowdy Cameron Diaz in a dowdy frizz) doesn't phase his flailing attempts at seduction.
The mundane and the miraculous exist side by side in "Being John Malkovich." The half-scale size of the 7 ½ floor is groaner of a pun ("low overhead," get it?) turned deadpan surreal sight gag, and when Cusack stumbles into the weirdly organic portal that sends him into the mind of John Malkovich (played with exceedingly good humor by John Malkovich), the metaphysical implication pale beside the business opportunities.