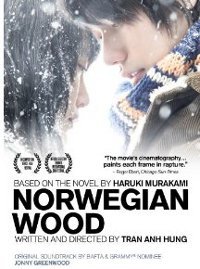 Norwegian Wood" (New Video) is quite the international affair: directed and adapted by French-Vietnamese filmmaker Tran Anh-hung from the novel by Murakami Haruki (itself named after a Beatles song), with a Japanese cast, cinematography by Hou Hsiao-hsien favorite Mark Lee Ping-bin from Taiwan, songs by Can and a hushed score by Radiohead's Jonny Greenwood.
Set in late sixties Tokyo, where student protests erupt on college campuses and sexual liberation is in the air, this is a story of disconnection in a time of engagement, with a student (Ken'ichi Matsuyama) escaping into books after his best friend's suicide and the withdrawn and fragile girlfriend (Rinko Kikuchi) scarred by the suicide retreating into a secluded sanitarium. Matsuyama plays the part as if a spectator rather than a participant in his life, too afraid to engage after the pain of his friend's suicide. Except when he's around Naoko, whose vulnerability draws him out of his cocoon.
Norwegian Wood is suffused in melancholia, with imagery as delicate as the lives it presents and atmospheres so fragile they look like they'd shatter under too much emotional pressure. Tran's portrayal of the fragility of emotionally devastated teens and young adults afraid to open themselves up again makes for lonely portrait, more touching than engaging but masterfully painted throughout. More reviews here.
Japanese with English subtitles. The DVD features a detailed making of documentary that runs nearly an hour and a shorter piece on the premiere at the Venice Film Festival. Also available via digital download.