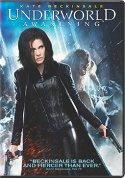 New Releases:
"Underworld: Awakening" (Sony), the fourth film in the cyberpunk horror film / action movie hybrid of vampires, werewolves, and the humans caught in crossfire of their underworld war, brings back Kate Beckinsale as the vampire assassin in black leather fetish gear. Blu-ray, DVD, OnDemand and at Redbox kiosks. Videodrone's review is here.
"The Vow" (Sony) is a Nicholas Sparks-esque romantic drama starring Rachel McAdams and Channing Tatum in a tale of amnesia and willpower. Blu-ray, DVD, OnDemand and at Redbox kiosks.
"Tim and Eric's Billion Dollar Movie" (Magnolia) is the feature film version of the uber-cheap skit series created by and starring Tim Heidecker and Eric Wareheim, and "Mother's Day" (Anchor Bay) is the remake of 1980 horror film, directed by "Saw" series veteran Darren Lynn Bousman and starring Rebecca De Mornay as mother. Both on Blu-ray and DVD.
Also new this week: the surf drama "Beautiful Wave" (Anchor Bay), the Spanish drama "Amador" (Film Movement) and "The Kreutzer Sonata" (Kimstim / Zeitgeist) with Danny Huston.
Browse the complete New Release Rack here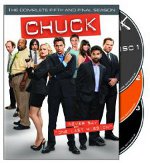 TV on Disc:
"Chuck: The Complete Fifth and Final Season" (Warner) brings the nerd spy fantasy to a close with 13 strong episodes and a farewell made to satisfy the passionate fan base that kept the show alive despite struggling ratings. I wasn't one of its devotees, but I always enjoyed the show and the final run is clever, fun, and so generous with its characters that it made me a convert. Blu-ray and DVD, both featuring Ultraviolet digital copies. Videodrone's review is here.
"The Big C: The Complete Second Season" (Sony) brings another season of Laura Linney facing cancer by living her life to its fullest. 13 episodes on three discs, DVD only.Reviewed on Videodrone here.
"Cold War: The Complete Series" (Warner) presents the complete 24-part award-winning 1998 series, and "Dark Shadows: The Complete Original Series" (MPI) collects all 1225 episodes of the gothic soap opera on 131 discs in a custom coffin shaped box.
Flip through the TV on Disc Channel Guide here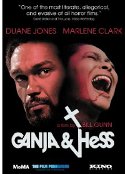 Cool, Classic and Cult:
"Ganja & Hess" (Kino) is one of the most unusual vampire films ever made, an art film under the guise of a blaxploitation shocker, with "Night of the Living Dead" star Duane Jones as an anthropologist under the influence of an ancient African strain of vampirism. Blu-ray and DVD.Reviewed on Videodrone here.
"A Hollis Frampton Odyssey" (Criterion) collects twenty-four films made by the avant-garde filmmaker between 1966 to 1979, plus select commentary by filmmaker. Blu-ray and DVD.
"Shock Labyrinth 3D" (Well Go) is Japanese horror from Takashi Shimizu (of "Ju-On" and "The Grudge" fame) and "The One That Got Away" (VCI) is a World War II POW escape thriller starring Hardy Kruger.
And on the MOD Movies front is Warren William in "The Lone Wolf Meets a Lady" (Sony Pictures Choice Collection) and a batch of outdoor adventures from Warner Archive, including "Northwest Passage" and "Westward the Women."Reviews at the MOD Movies round-up here.
All of the Cool, Classic and Cult here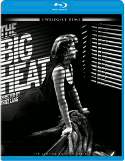 Blu-ray Debuts:
"The Big Heat" (Twilight Time), Fritz Lang's 1953 film noir masterpiece, transforms Glenn Ford from family man to avenging vigilante with the mob murders his wife. It's one of my all-time favorite films and I never expected to see it on Blu-ray. Thank you, Twilight Time. Reviewed on Videodrone here.
"Gremlins 2: The New Batch" (Warner) is the rare sequel that is funnier than its original and one of the funniest films of the nineties. Or ever. Joe Dante creates one of the great live-action cartoons of all time. Videodrone's review is here.
"Dirty Dancing Collection" (Warner) doubles up the nostalgic 1987 hit starring Patrick Swayze and Jennifer Grey with the 2004 pseudo sequel with Diego Luna and Romola Garai in 1958 Cuba. "Nobody puts Baby in the corner!" Not even the Cuban Revolution.
Also new: "La haine" (Criterion), Mathieu Kassovitz's 1995 portrait of life in the ghettoes of the Paris suburbs, and "Journey to the Center of the Earth" (Twilight Time), the colorful 1959 version of the Jules Verne science fantasy starring James Mason, Arlene Dahl, and Pat Boone.
Peruse all the new Blu-rays here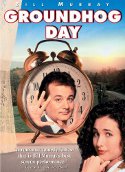 New on Netflix Instant:
Two seventies classics from Sidney Lumet arrive this week: "Dog Day Afternoon" (1975) with Al Pacino and "Network" (1976) with Faye Dunaway and William Holden.
"Groundhog Day" (1993) with Bill Murray is just as serious, but it's so funny you may not notice, and "Big Night" (1996), a modest character piece with Stanley Tucci and Tony Shalhoub, is just as much fun.
Also new: the Israeli drama "Ajami" (2009), Gus Van Sant's "Drugstore Cowboy" (1989), and the wily cult horror comedy "Bubba Ho-Tep" (2003) with Bruce Campbell.
Browse more Instant offerings here
Available from Redbox this week:
Day and date with video stores: "The Vow" (Sony) with Rachel McAdams and Channing Tatum, and "Underworld: Awakening" (Sony) with Kate Beckinsale armed with fangs and guns, both on DVD and Blu-ray. Also new is the surf drama "Beautiful Wave" (Anchor Bay) and the horror movie remake "Mother's Day" (Anchor Bay).